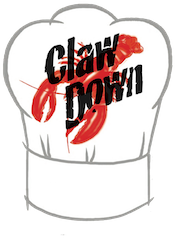 Boothbay Harbor, Maine (PRWEB) September 09, 2017
There are a limited number of tickets still available for the Sixth Annual Claw Down – Maine Chef's Lobster Bite Competition. The competition features 10 Maine chefs who will compete with their best lobster bite for the title of 2017 Maine Claw Down Chef of the Year.  
This lobster lover's event, hosted by the Boothbay Region Chamber of Commerce, will take place on Thursday, September 14 from 6:00p.m.–9:00p.m. at the Newagen Seaside Inn, 60 Colony Road, Southport, ME. All parking will be located at Southport Island Marine, 648 Hendricks Hill Road, Southport, with five-minute shuttle service to and from the venue.
If indulging in all-you-can-eat handcrafted lobster bites and the choicest wine and beer is not enough to satisfy your appetite, this year the event will feature Portland's Sister Steel for some "after-bite" dancing and fun. The talented team at the Boothbay Region Greenhouses will transform the tent at Newagen Seaside Inn with accented up-lighting, greenery, and nautical décor.
In its sixth year, the Chamber's signature culinary fundraiser draws lobster fans from all over the country. Claw Down's overall mission is to promote local lobster, showcase the tsunami of award-winning culinary talent in our state, and bring folks from all over the country to the area to eat, stay, and play for the weekend, after the Claw Down. 
This year  500 pounds of shucked local lobster will be handcrafted into prize-worthy lobster bites. Guests will have the chance to cast their votes for the People's Choice Award and there will be an award for Best Table and Presentation.
The Judges' choice winner will be selected through a panel of four industry-renowned judges: Chris Papagni, Portland food writer and consultant, Arlin Smith, Owner of Hugo's, Honey Paws and Co-owner of Eventide in Portland, Pamela Laskey, Founder of Maine Foodie Tours and Diane Hudson, Portland food and features writer, via blind-judging. Chamber Board President, Michael Maxim will serve as Master of Ceremonies. The chefs will also have their say as they cast their votes for the Chefs' Choice Award. 
The Judges' Choice winner will be invited to participate at Harvest on the Harbor to compete in their Maine Lobster Chef competition to be held in October.
11 Restaurants/Chefs will compete in the 6th Annual Claw Down:
Boothbay Harbor Country Club – Executive sous Chef, Nathaniel Adam
Carriage House Restaurant – Chef Kelly Patrick Farrin
Cods' Head Fish House & BBQ – Chef Stanley Hornsby
Feast Maine Catering – Chef Daron Goldstein
Linekin Bay Resort – Chef John Dexter
Mine Oyster – Raw Bar & Gathering Place – Chef Ralph Smith
Oak Street Provisions – Chef David
Oliver's at Cozy Harbor Wharf - Chef Mike Nguyen
The Boathouse Bistro Tapas Bar & Restaurant - Chef Karin Guerin
The Thistle Inn – Chef Dick Reid
1820 House – Chef Daniel Lynch
Cocktail attire is suggested for the Claw Down event.  Tickets are $65, (Limited number of VIP tickets for $95 include parking pass, hand crafted plate by Alison Evans, extra drink ticket and pre-event party). Tickets are non-refundable and both include handcrafted lobster bites, wine, beer, coffee bar and dessert. Must be 21 + with ID. Call the Chamber at 207-633-2353 today. For more information, visit: http://www.boothbayharbor.com or email: seamaine(at)boothbayharbor.com. Only chef, vendor, VIP and handicapped parking available at the Newagen Seaside Inn. Please park at Southport Island Marine and take a quick complimentary shuttle ride to the Inn.
The Boothbay Harbor Region Chamber of Commerce would like to express their sincere appreciation to Claw Down sponsors: Boothbay Region Greenhouses, Newagen Seaside Inn, Taylor Rental/Party Plus of Bangor, Central Distributors, Cisco, PORTLAND Magazine, LCI Fiber Optics, The Boothbay Register, Rainbow Productions, First National Bank/First Advisors, J. Edward Knight, Pat Farrin & Sons, Northeast Media Associates, Sweet Bay, Eventide Epicurean Specialties, East Boothbay General Store, Seacoast Coffee, Hannaford's, David Dostie Photography, Country Coach Charters, Harvest on the Harbor and Martin Page.