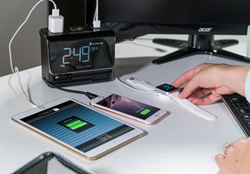 Jericho, New York - (PRWEB) September 07, 2017
(September 7, 2017) - Known as the "Swiss Army Knife of chargers" the team behind Kurrent, developed the device to easily charge their mobile devices and to help combat the constant changes consumers face in keeping up with the latest technology. Today, Kurrent launched on Indiegogo with a $50,000 funding goal.
The new Kube 'Kurrent' doubles as a multi device charger and an alarm clock - used for all mobile electronics, including laptops with it's integrated AC power outlet. Additionally, the option of a Qi wireless charging pad accessory allows users to 'drop and charge' smartphones, including the all latest Samsung devices and most likely the upcoming Apple iPhone 8.
Kurrent includes two built-in, upgradeable Apple Lightning and Micro USB cable connectors, USB-C compatibility, two auto sensing USB ports and an AC power outlet. Kurrent's optional Qi wireless charging base can be used with any compatible phone or case. The Lightning connector that comes with the alarm clock can autosense the required power for charge and actually deliver a faster charge than traditional wall chargers while protecting the devices battery to prolong its life.
Kurrent's advanced alarm system has a backup battery that ensures the clock doesn't reset to 12:00 if the power goes out. Additionally, the large LCD screen can be easily seen from across the room. With its compact and sleek design that features a waterfall display accented with a chrome trim, Kurrent is an aesthetically-pleasing addition to any bedroom.
"I travel abroad for business a lot, so I'm constantly carrying literally a bag of power adaptors to cater for all my devices," said Co-founder Garry Ramler. "I found that there were no simple solution for this mess. It was this 'Aha' moment that inspired me to simplify the process and develop a simple and universal charging station with built-in cables and USB ports for the home or office."
Kurrent future proofs your personal investment with built-in interchangeable charging cables that are completely upgradeable to next-generation charging formats, including the new
USB Type-C. This innovative feature allows consumers to easily transition with confidence to next-gen charging formats as they are released and not be frustrated with out of date connectors.
Kurrent is now live on Indiegogo starting at $85.
To find out more information about Kurrent or to back the campaign, visit http://bit.ly/KurrentIndie.
About Kube Systems
Kube Systems provides unique power solutions for the commercial hospitality industry and understands that charging of mobile technology is the #1 issue for smartphone users worldwide. We design and manufacture to the highest quality standards, and continue to innovate by creating the latest in forward-thinking ways to charge devices. With the introduction of Kurrent, Kube Systems brings its experience and expertise to the home and office.