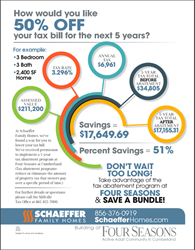 Millville, New Jersey (PRWEB) September 08, 2017
Schaeffer Family Homes is giving residents of Four Seasons in Cumberland a big tax break. The active adult community is implementing a five-year tax abatement program providing homeowners with a significantly lower tax bill.
The purpose of tax abatement programs is to reduce or eliminate the amount of property tax that owners pay over a specific period of time. The program provides residents with up to 50 percent savings on their tax bill for the next five years.
For more information on this special offer, contact the Millville Tax Office at 865-825-7000.
For more information on Schaeffer Family Homes and other communities, call 856-208-5118 or visit http://www.schaefferhomes.com. Also follow Schaeffer Family Homes on Facebook, Twitter and Instagram.