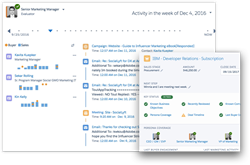 "With Akoonu for Sales, my reps will spend less time on data entry and stay focused on selling to the right people in our accounts" says Shirin Oshidari, vp of sales and services at StreetLight Data.
San Francisco, CA (PRWEB) September 12, 2017
Akoonu, Inc.™ today announced it has launched Akoonu for Sales on the Salesforce AppExchange, empowering businesses to connect with their customers, partners and employees in entirely new ways. The solution enables B2B Sales Teams managing complex sales to visualize and take action based on the behavior patterns of each buyer through buyer-aware opportunities maps that align buyers journey stages to stages in their sales process.
Built on the Salesforce PlatformApp Cloud Lightning, Akoonu is currently available on the AppExchange at https://appexchange.salesforce.com/listingDetail?listingId=a0N3A00000ErAppUAF
Akoonu for Sales gives leaders of B2B Sales organizations a practical, cost-effective solution to the challenges of increasing sales productivity while reducing layers of management and time spent training sales representatives and sales managers.
"Akoonu for Sales was designed for sales organizations that run on Salesforce and execute complex sales into accounts with multiple buyers involved in the buying process." says Jeff Freund, CEO of Akoonu. "It helps sales leaders scale their organization by tracking buyers on their buyer journey and guiding sales representatives to the right next step for each buyer at each stage in an opportunity."
Akoonu for Sales enables sales leaders to continuously reinforce account-based sales processes with new and veteran sales representatives, while increasing team knowledge of buyers and how they buy and guide sales actions, so sales representatives execute faster, smarter and with more confidence.
Complementing traditional CRM capabilities, Akoonu for Sales also gives sales executives and managers the ability to conduct rapid, fact-based assessments of deal status and buyer engagement; enables more efficient, effective pipeline and deal review meetings; and reduces time spent on data entry and reporting.
Key Features of Akoonu for Sales
Leveraging the Salesforce Platform, Akoonu for Sales provides visual, buyer-aware opportunity maps developed specifically to help sales representatives sell more effectively by integrating the buyers journey into account-based selling, including:

Integrating buyer signals to track key contacts as they move through buyers journey stages
Matching leads and contacts to buyer personas automatically and organizing them into sophisticated buyer groups to present a clear view of contacts missing, identified and engaged
Providing recommended plays that guide selling actions for sales representatives
Automating status indicators so sales managers and representatives can rapidly assess deals
"With Akoonu for Sales, my reps will spend less time on data entry and stay focused on selling to the right people in our accounts" says Shirin Oshidari, vp of sales and services at StreetLight Data. "By integrating buyer signals from email, calendar and marketing activities into visual opportunity maps that track the progress of buyers through their buyers journey and our sales process, my new reps can onboard faster and my seasoned reps can be more productive."
Akoonu for Sales tracks buyer engagement while reducing data entry overhead for sales representatives. Its advanced data science engine harvests, integrates and analyzes buyer signals from multiple third party sources such as email and calendaring systems and marketing automation systems. Additional features for sales leaders include automated roll-ups, pipeline health reports and embedded workflows to streamline pipeline reviews and deal reviews.
Noah Logan, SVP of Sales at Traackr, comments, "I use Akoonu for Sales to save time preparing for pipeline and deal reviews. The automated deal analytics and integration of buyer signals across the buying committee give me greater confidence in my forecast and provide my reps insight that guides their actions. Akoonu for Sales helps us keep deals on track."
Salesforce, AppExchange and others are trademarks of salesforce.com, inc.
About Salesforce AppExchange
Salesforce AppExchange is the world's leading enterprise apps marketplace that empowers companies to sell, service, market and engage in entirely new ways. With 3,000 partner apps and more than 4 million customer installs, it is the most comprehensive source of cloud, mobile, social, IoT, analytics and artificial intelligence technologies for businesses.
Additional Resources
Like Salesforce on Facebook:http://www.facebook.com/salesforce
Follow Salesforce on Twitter: https://twitter.com/salesforce
About Akoonu
Akoonu, Inc.™ harnesses the power of data science in its flagship SaaS product, Akoonu for Sales, to produce powerful opportunity and win maps that enable companies with complex sales processes to map the progress of each buyer in the buyers journey. Sales executives, managers and account executives leverage buyer signals to focus strategy, resources and action planning on the deals most likely to close, while improving the efficiency and effectiveness of sales pipeline and deal review meetings through streamlined workflows. Akoonu for Marketing can optionally be used to develop and synchronize enhanced buyer journey insights with Akoonu for Sales, including validated buyer needs, targeted messaging and recommended content.
Founded in 2014 by veteran enterprise software executives to reinvent complex selling practices in the digital age, Akoonu arms companies with buyer-aware Account-Based Selling on Salesforce to master their revenue journeys. For more information, visit http://www.akoonu.com.