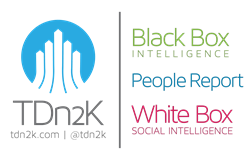 Dallas, Texas (PRWEB) September 08, 2017
August results disappointed again as same-store sales declined -2.0 percent and traffic dropped -3.9 percent, but both measures were 0.7 percentage points better than July's results. They reflect the difficult environment many chains are facing in today's rapidly changing market. However, the industry's underlying performance was actually stronger than the topline numbers suggest. These insights come from TDn2K™ data through The Restaurant Industry Snapshot™, based on weekly sales from 28,500+ restaurant units, 155+ brands and representing $68+ billion dollars in annual revenue.
"August is really a tale of two different periods," explained Victor Fernandez, Executive Director of Insights and Knowledge for TDn2K. "In the first three weeks of the month, same-store sales were down -1.4 percent, a significant 1.4 percentage point improvement over July. Same-store traffic was down -3.0 percent. Although still negative, this was an improvement over recent results" he continued.
"Results from the final week of August were very soft, with two major events impacting results. The first, and most extensive, was the heartbreaking tragedy of Hurricane Harvey. Same-store sales in Texas declined 15 percent that last week, almost 13 percentage points below the average of the first three weeks of the month."
Given the large population and size of the Texas economy, the lost sales in this region can impact the national results. Texas performance lowered the national sales results by more than 1.0 percentage point in the final week and 0.3 percentage points for the entire month. The negative effects from the storm are expected to continue for months.
Another significant event was the Mayweather-McGregor fight on the final Saturday of the month. With an estimated 4.5 million pay-per-views at about $100 each, the spectacle had roughly a $450 million impact on that single evening. Millions of potential restaurant consumers modified their plans because of the event. Casual dining bar and grill concepts, which often feature sports and specials in their bars, had an improvement in sales for the week. Full service segments with less emphasis on sports and televised events (fine dining and upscale casual) saw a severe negative impact.
Moderate Economic and Income Growth Not Fueling Accelerated Consumer Spending
"The economy expanded moderately in the summer, though the hoped-for acceleration didn't occur", commented Joel Naroff, President of Naroff Economic Advisors and TDn2K Economist. "Job growth was decent but nothing great. Indeed, for the first eight months of the year compared to the same period in 2016, job increases were about 10,000 per month lower. That has translated into modest income increases, especially when adjusted for inflation" he said.
Consumer spending power remains limited and that is restraining retail sales, especially at restaurants. The impact of hurricane Harvey and potentially Irma are large enough to slow growth in the third quarter. But the rebuilding should kick in during the fourth quarter and cause activity to reaccelerate. That data we see over the next few months will be distorted by the unusual weather and has to be viewed as only representing short-term and not long-term trends. We may not get back to more normal growth until early 2018, but that is still expected to be same roughly 2.25 percent pace we have seen for the past six years.
Counter Service Brands Continue to Win the Market Share Battle
TDn2K's latest Market Share and Industry Growth Report indicates that quick service and fast casual continue to gain market share through Q2 of 2017. The latter has faced significant challenges recently when it comes to their same-store sales due to the oversupply of new restaurant locations and chains flooding the market, but from a total sales perspective this segment is still experiencing considerable growth.
Family dining and, to a larger extent, casual dining continue to lose share. Not only is casual dining experiencing continued sales declines, but net growth in locations has remained flat over the last few quarters.
Turnover Rates Stops Rising, Job Growth Flattens
Finding enough qualified employees continues to be top-of-mind for operators. Staffing difficulties are at decade-high levels, according to TDn2K's People Report™ Workforce Index. However, the trend of rising restaurant turnover rates may be moderating. The unemployment rate is hovering around full-employment levels and restaurant turnover rates also seem to be plateauing. In July, rolling 12-month turnover rates for hourly and management employees remained at the same levels as for the previous month. This is clearly good news - bad news. The turnover rates may be stabilizing, but they are still at historically high levels and are key factors in delivering consistent quality execution at the unit level.
The outlook for September and the fourth quarter is uncertain. Even without major external factors, chain restaurants have not yet demonstrated an ability to consistently generate sales and traffic momentum. Texas, Louisiana and Florida will likely experience significant shortfalls due to truly devastating weather events. And the rise in gasoline prices, often considered an indicator of restaurant traffic, will be watched closely. In general, operators will rely on relatively strong economic conditions and favorable comparisons against a weak prior year to turn the tide for the balance of 2017.
TDn2K™ (Transforming Data into Knowledge) is the parent company of People Report™, Black Box Intelligence™ and White Box Social Intelligence™. People Report provides service-sector human capital and workforce analytics for its members on a monthly basis. Black Box Intelligence provides weekly financial and market level data for the restaurant industry. White Box Social Intelligence delivers consumer insights and reveals online brand health. TDn2K membership represents 41,000 restaurant units, 2.5 million employees and $68 billion in sales. They are also the producers of leading restaurant industry events including the Global Best Practices Conference held annually each January in Dallas, Texas.