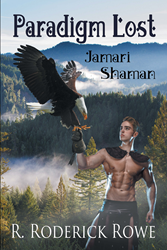 WINCHESTER BAY, Ore. (PRWEB) September 11, 2017
A Winchester Bay-based fiction author has released the second installment in his dystopian fantasy series that follows the coming-of-age story of a young man's spiritual and physical journey to achieving adulthood in a post-apocalyptic culture. In "Paradigm Lost: Jamari Shaman," R. Roderick Rowe continues the story of protagonist Jamari as he leaves his youth behind and embraces his tribal role as a man.
Set several decades into the future in the post-apocalyptic Pacific Northwest, Jamari embarks on a spiritual expedition in which he fosters the development of his soul and deepens his connection to the Creator. As he continues to explore the mores of his homosexual-dominant tribe's culture, the young man grapples with his own sexuality and identity.
"This series stemmed from a collection of dreams I had, which inspired many of the characters that I've developed in the first and second volumes," Rowe said. "Ultimately, the Paradigm Lost books are meant to call into question the way our modern society views sexuality. Sex is not and should not be a shameful thing."
"… Readers, regardless of their sexual preferences, should read this book, if only for the sake of the possible solution that Rowe lays bare for the world so that it can be better connected to the spirit of the Creator within each and every one of us," a reviewer for the San Francisco Book Review wrote about the book.
Through its celebration of sexual identity and culture, "Paradigm Lost: Jamari Shaman" presents readers with a genre-bending, thought-provoking examination of sex and its modern-day stigmas as well as societal views toward parenting and achieving adulthood.
"Paradigm Lost: Jamari Shaman"
By R. Roderick Rowe
ISBN: 978-1-5434-1576-6 (hardback); 978-1-5434-1577-3 (paperback); 978-1-5434-1578-0 (electronic)
Available at the Xlibris Online Bookstore, Barnes & Noble and Amazon
About the author
R. Roderick Rowe is a commercial fisherman, former member of the Navy and an openly gay man. Rowe has long been passionate about creative writing, which he studied in college, and has published several short stories and poems. Rowe currently resides in Winchester Bay, Ore. To learn more, please visit http://www.rwcollinspublishing.com.
###
Review Copies & Interview Requests:
LAVIDGE – Phoenix
480-648-7557
dgrobmeier@lavidge.com
General Inquiries:
LAVIDGE – Phoenix
480-998-2600 x 584
mdriver@lavidge.com