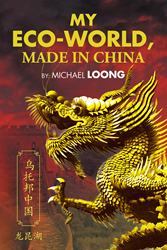 SINGAPORE (PRWEB) September 11, 2017
A Singapore-based engineer has released his comprehensive analysis of China's economic, environmental and social status, which presents solutions to the nation's current troubles and suggests a transition to a hybridized political system that incorporates aspects of communism, socialism and capitalism. In "My Eco-World, Made in China," author Michael Loong proposes an upheaval of China's modern-day underpinnings and advocates for the creation of hundreds of environmentally and economically sustainable "eco-cities," which in turn would revitalize the nation.
According to Loong, China's economic success over the past four decades has also brought with it issues of political corruption, environmental degradation, unemployment and a scarcity of affordable housing. In his book, Loong asserts that innovations in technology, the elimination of fossil fuels and the construction of 400 eco-cities could foster a utopic society in which the country's residents have unfettered access to healthcare, education, clean water and political voice.
"China is at the crossroads of redefining its place in the 21st century," Loong said. "Without any lasting political, economic and social solutions in sight, China ought to seize upon the opportunity to create a system that will challenge its current structure and benefit the people of China as well as people around the world."
Emphasizing the need for compatibility with current demands for freedom and justice, "My Eco-World, Made in China" puts forth a complete assessment of China's present-day incompatibilities with modern attitudes and needs. In this, Loong hopes to highlight the requirement that China evolve so that it may meet current and future challenges and continue to advance its international influence and prowess.
"My Eco-World, Made in China"
By Michael Loong
ISBN: 978-1-4828-6422-9 (hardback); 978-1-4828-6421-2 (paperback); 978-1-4828-6423-6 (electronic)
Available at Barnes & Noble and Amazon
About the author
Michael Loong holds degrees in mechanical and aeronautical engineering and has worked in the aviation industry for more than three decades. Loong is married with two children and is passionate about world affairs, politics, sports, cooking and traveling in China. He currently resides in Singapore. To learn more, please visit http://www.michaelloong.com.
Review Copies & Interview Requests:
LAVIDGE – Phoenix
480-648-7557
dgrobmeier(at)lavidge(dot)com
General Inquiries:
LAVIDGE – Phoenix
480-998-2600 x 584
mdriver(at)lavidge(dot)com