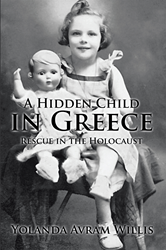 PITTSBURGH, Penn. (PRWEB) September 11, 2017
What if Anne Frank had lived? What if she had escaped and lived to tell her story? The answer to these questions can be found in Yolanda Avram Willis' new book.
In "A Hidden Child in Greece: Rescue in the Holocaust," Willis shares the autobiographical account of her survival, during the Nazi occupation of Greece. Because of other families, willing to face persecution themselves, by hiding and assisting Jews, a young Willis and her family were able to hide from the Nazis, throughout Crete and Athens. Her memoir is a tribute to her rescuers, and all who aided those targeted by the Third Reich, during the Holocaust.
"The first family who hid us became fugitives for having hidden Jews," Willis said. "They became just like us; fighting for survival for what they believed."
Willis has taught courses about rescuers and hidden children at Carnegie Mellon University's Osher Institute for Lifelong Learning and at the Holocaust Center of Pittsburgh. She has returned to Greece as an adult, met with some of the families who rescued her, and visited some of her hiding places.
"My story is about how regular people outsmarted the Third Reich," Willis said. "Even when we think there is no hope, love and compassion for one another can be the most powerful weapons we have."
"A Hidden Child in Greece"
By Yolanda Avram Willis
ISBN: 978-1-5246-0179-9
Available at AuthorHouse Online Bookstore, Barnes and Noble and Amazon
About the author
Yolanda Avram Willis was born in Greece in 1934. She was six years old when WWII began in her country. She came to the U.S. on a Fulbright Scholarship, graduated Phi Beta Kappa, cum laude, and earned an MA in chemistry. After her third child was born, she received an MA and PhD in sociology, and worked as a researcher, manager, educator and management consultant. Dr. Willis lectures nationally, speaking about the Holocaust and righteous Greek Christians. In 1996, she was the Associate Producer of a documentary film titled, "It Was Nothing, It Was Everything," focusing on ten Greek rescuers, including one of her rescuers from Crete. For more about Dr. Willis or her book, visit: http://www.authorhouse.com/Bookstore/BookDetail.aspx?BookId=SKU-000962754.
Review Copies & Interview Requests:
LAVIDGE
Chris Peña
(480) 306-7065
cpena(at)lavidge.com