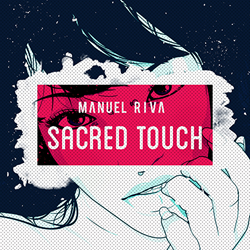 New York, NY (PRWEB) September 08, 2017
Today, Friday, September 8th electronic dance music DJ/ producer Manuel Riva (George Emanuel Călin) celebrates the North American release of his single "Sacred Touch (feat. Misha Miller)," his sophomore Single for top US Dance label Radikal Records. Riva, whose songs are included in set-lists of renowned artist such as Tiesto, Sam Feldt, and Oliver Heldens, rose to international success with his initial Radikal Records release "Mhm Mhm." At the end of 2016, "Mhm Mhm" charted on Billboard Magazine's Dance Club Chart and topped the Shazam charts in various countries including his native country Romania. Riva was also nominated at MTV EMAs in the Best Romanian Act category. Riva is looking to build off his previous success with the release of "Sacred Touch (feat. Misha Miller)."
The single includes the same ingredients that Manuel Riva has used for the success of his previous hits: mesmerizing vocals mixed with flirty deep-house beats bound to be stuck in your head after just one listening. For "Sacred Touch," Riva collaborated with Moldovian songstress Misha Miller. When describing the collaboration with Misha Miller, Riva stated, "The first time I met Misha Miller was during the Transfagarasan International Music Camp. All I can say is that the second we started working together I knew she was perfect for the track. An amazing voice which is always a pleasure to work with."
The music video, directed by Alex Volintiru, continues the enchanting journey begun with Riva's music video for "Mmh Mmh". Filmed in Paris, the music video captures the mysterious main character writing a new chapter of the story. The "Sacred Touch" music video is available on Radikal Records YouTube Channel.
Watch the "Sacred Touch" music video: https://youtu.be/M1hNvUa5flo
"Sacred Touch (feat. Misha Miller)" is available along with additional mixes from remixers including Hyptonix, Dave Andres, Dani Zavera, Alex Vives & Ivan Deyanov, Moonsound and Paul Damixie. The single is available for digital purchase on Amazon, iTunes, Google Play, Bandcamp, and Beatport. It is also available to stream on Apple Music and Spotify.
About Radikal Records:
Established in 1990, and based just outside of NYC, Radikal Records is one of the United States' leading independent EDM record labels. In business for more than 25 years, Radikal is focused on marketing, promoting, and distributing artists – not only to audiences in the USA, but also on a global basis to partners world-wide. Artists included on their roster over the years include: Kristian Nairn, DJs From Mars, Tony Moran, Salt Ashes, 2 Unlimited, N-Trance, Zombie Nation, ATB, Yello, Scooter, Schiller, Blank & Jones, Deborah Cox, Sinead O'Connor, Ayah Marar, and many others. For more information, visit: http://www.radikal.com