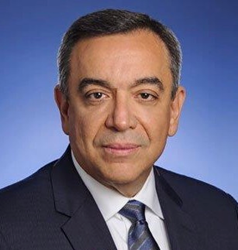 'I am excited to join Vision-e to help deploy its next-generation platform that is cyber secure by design,' said Mr. Diaz.
FAIRFIELD, NJ (PRWEB) September 12, 2017
InField Sales Pro, LLC (d/b/a "Vision-e") has announced the appointment of Luis J. Diaz ("Lou") to the post of General Counsel and Chief Cybersecurity Officer, effective September 5, 2017. In this role, Diaz will oversee all of Vision-e's legal matters and assist the company in further developing cybersecurity solutions for the print industry.
"As Vision-e embarks on the substantial opportunities that lie ahead for our family of companies, providing solutions with built-in cybersecurity will be key to our continued success," said John Hand, chief executive officer, Vision-e. "Lou is a recognized expert on cybersecurity matters. He has an exceptional track record of achievement in the technology sector and this will be invaluable to Vision-e and its affiliates. I'm confident that as General Counsel and Chief Cybersecurity Officer, he will provide inspiring leadership and expertise to enhance the company's reputation for innovation, excellence and integrity."
Lou has more than 30 years of legal experience in the technology sector. He joins Vision-e from Gibbons P.C., where he served as a Director in the Intellectual Property Group, focusing his practice on cloud-computing and cybersecurity matters. He has published extensively and is a frequent speaker on cybersecurity matters. He is a founding member of the firm's Data Privacy and Cybersecurity Practice Group. He also founded and continues to lead the New Jersey State Bar's annual cybersecurity conference. He serves as a Trustee to the State Bar and was recently appointed to serve on the newly formed Cybersecurity Task Force. Prior to Gibbons, P.C., Lou served as an Executive Vice President and Senior Counsel with IDT Corporation, where he managed all intellectual property matters worldwide for the company. Before that, Lou was General Counsel to Omni Solutions International, a Phoenix-based software company serving Fortune 100 insurance companies.
Aside from his technology and cybersecurity work for clients, Lou also proudly served as Gibbons P.C.'s first Chief Diversity Officer. He is widely published and recognized as a thought leader in the field. During his tenure, the firm received many awards for its diversity work, including the coveted Innovation in Diversity award. Lou was also named Professional Lawyer of the Year in 2016 by the New Jersey State Bar Association and New Jersey Commission on Professionalism. And in 2015, he was selected as Diverse Attorney of the Year by New Jersey Law Journal. Lou also received the Humanitarian Award from the American Conference on Diversity.
"Cybersecurity is a great concern to all U.S. companies that utilize copier and print services, especially those in specialized fields like healthcare, financial and legal services; I am excited to join Vision-e to help deploy its next-generation platform that is cyber secure by design," said Mr. Diaz.
About Vision-e
Vision-e is a leading provider of cloud-based software, cybersecurity, and technology services to the print industry. The company has leveraged advanced technology, best-in-class partnerships and proven business processes to provide services and solutions that translate into greater efficiency for highly specialized industries like healthcare, banking and finance, law and government.
About Gibbons P.C.
With more than 200 attorneys, Gibbons P.C. is a leading law firm in New Jersey, New York, Pennsylvania, and Delaware, and is ranked among the nation's top 200 firms by The American Lawyer.