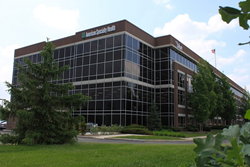 Our name and brand have been in the marketplace for 30 years and we will vigorously defend them from trademark counterfeiting and infringement," said George DeVries, ASH co-founder, chairman and CEO
San Diego, CA (PRWEB) September 11, 2017
American Specialty Health Incorporated ("ASH"), one of the fastest-growing privately held companies in the United States, has filed a lawsuit against Modesto-based American Specialty Healthcare and American Specialty College and its key executives, alleging trademark counterfeiting and trademark infringement.
ASH filed suit in the United States District Court in the Eastern District of California, Fresno Division for injunctive relief, to enjoin the Defendants and those in active concert with them from using the "American Specialty Healthcare" and "American Specialty College" name and marks; statutory, compensatory, and treble damages; an accounting of any and all profits derived by the Defendants from the acts complained of; and attorney fees and costs for trademark counterfeiting, trademark infringement, false designation of origin, and violation of CA. Bus. & Prof. Code § 17200 et seq.
"American Specialty Health's trademark registration is more than ten years old and incontestable," said ASH's Counsel John Dabney of McDermott Will & Emery LLP. "The company has spent millions of dollars building brand awareness for its nationally recognized health services under the name American Specialty Health."
George DeVries, ASH's co-founder, chairman and CEO, stated, "ASH and its subsidiaries provide health services to more than 43 million Americans and contract with more than 130 health plans, hundreds of employer groups and 63,000 healthcare providers nationwide. Our name and brand have been in the marketplace for 30 years and we will vigorously defend them."
The case is American Specialty Health Incorporated v. American Specialty Healthcare, Inc.; American College, LLC; Gurpreet Singh; and Gia Smith, an individual, case number 1:17-at-00670.
About American Specialty Health
American Specialty Health Incorporated (ASH) is one of the nation's premier independent and privately owned specialty health services organizations, providing physical medicine provider networks and administration, fitness center networks and exercise programs, and health management solutions for health plans, insurance carriers, and employer groups. ASH contracts with more than 130 health plans nationally and administers programs for more than 43 million members. Operating from offices in San Diego, CA, Southlake (Dallas), TX, Carmel (Indianapolis), IN, and Columbia, SC, ASH has more than 1,400 employees. Additional products offered through ASH and its subsidiaries include the Healthyroads® and FitnessCoach® programs, and others. For more information about ASH, visit http://www.ashcompanies.com or call 800-848-3555. Follow us on LinkedIn, Twitter at @ASHCompanies or Facebook @ASHCompanies