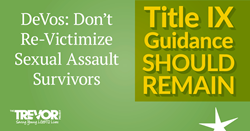 Washington, DC (PRWEB) September 07, 2017
The Trevor Project, the nation's leading crisis intervention and suicide prevention organization focused on LGBTQ youth, today condemned Education Secretary Betsy DeVos for her thinly-veiled decision to weaken Obama-era Title IX guidance with new regulations on how schools and universities handle allegations of sexual assault.
The following statement is from Trevor Project CEO & Executive Director Amit Paley:
"The Education Secretary discussed suicide attempts at length in her speech today yet with her actions she is creating irreparable harm and putting LGBTQ students at higher risk of suicidal ideation. She is taking national policy in the wrong direction, sending a message that undermines victims of sexual assault while simultaneously ignoring the LGBTQ community.
"Although no studies have been conducted specifically about LGBTQ college sexual assault survivors and suicidality, we know that LGBTQ youth in general are 3-4x more likely to attempt suicide and that sexual assault survivors are at greater risk of considering and attempting suicide. DeVos's statement sends a dangerous message to victims that their complaints aren't believed. Moreover, by discussing this issue in strictly 'women versus men' terms, she strongly reinforces the hetero and cissexist systems that can be barriers to LGBTQ students seeking help. Like sexual assaults broadly in the US, sexual assaults in the LGBTQ community are already under-reported, and LGBTQ victims face additional challenges including heterosexism, homophobia, transphobia, a discriminatory legal system, and outing.
"Here are a few statistics the Secretary should be aware of:

21% of transgender, genderqueer, or nonconforming (TGQN) college students have been sexually assaulted, compared to 18% of non-TGQN females, and 4% of non-TGQN males.
o Source: David Cantor, Bonnie Fisher, Susan Chibnall, Reanna Townsend, et. al. Association of American Universities (AAU), Report on the AAU Campus Climate Survey on Sexual Assault and Sexual Misconduct (September 21, 2015)

The vast majority of sexual assaults are never reported to law enforcement or campus officials.
o A recent study indicated that about 5-28% of assaults are reported.

Source: Department of Justice, Office of Justice Programs, Bureau of Justice Statistics. Rape and Sexual Victimization Among College-Aged Females, 1995-2013 (2014).
The likelihood that a person suffers suicidal or depressive thoughts increases after sexual violence.
o 33% of women who are raped contemplate suicide
o 13% of women who are raped attempt suicide.
o Rape victims were 4.1 times more likely than non-crime victims to have contemplated suicide.

Source: DG Kilpatrick, CN Edumuds, AK Seymour. Rape in America: A Report to the Nation. Arlington, VA: National Victim Center and Medical University of South Carolina (1992).
"The Trevor Project advocates that institutions of higher education that receive federal financial assistance should abide by the guidance laid out in the Dear Colleague letter issued during the Obama administration regarding how to handle sexual harassment, which includes sexual assault. This letter strikes the right balance in protecting survivors of sexual assault, which may help reduce suicidal thoughts and attempts."
The Trevor Project is the leading and only accredited national organization providing crisis intervention and suicide prevention services to lesbian, gay, bisexual, transgender and questioning (LGBTQ) young people under the age of 25. The Trevor Project offers a suite of crisis intervention and suicide prevention programs, including TrevorLifeline, TrevorText, and TrevorChat as well as a peer-to-peer social network support for LGBTQ young people under the age of 25, TrevorSpace. Trevor also offers an education program with resources for youth-serving adults and organizations, a legislative advocacy department fighting for pro-LGBTQ legislation and against anti-LGBTQ rhetoric/policy positions, and conducts research to discover the most effective means to help young LGBTQ people in crisis and end suicide. If you or someone you know is feeling hopeless or suicidal, our Trevor Lifeline crisis counselors are available 24/7/365 at 866.488.7386. http://www.TheTrevorProject.org