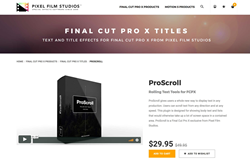 This New FCPX Plugin displays text in a new way.
Aliso Viejo, CA (PRWEB) September 07, 2017
ProScroll gives users a whole new way to display text in any production. Users can scroll text from any direction and at any speed. This plugin is designed for showing body text and lists that would otherwise take up a lot of screen space in a contained area. ProScroll is a Final Cut Pro X exclusive from Pixel Film Studios.
ProScroll contains 4 unique layout styles: paragraphs, lines, bullet points and tickers. Each type is designed for a specific use and can be adjusted to fit the needs of any production. All 4 types also include presets that are divided into 3 alignments: left, right and centered. Pixel Film Studios gives users all the tools they need to create amazing scrolling text effects.
ProScroll provides users with a very helpful on-screen control rig and Guide interface. First, turn the Guide checkbox on to see a visual representation. Next, navigate to the beginning of the clip and move the Start Position OSC to a desired location. Then, move to the end of the preset and do the same for the End Position OSC. Additional on-screen controls allow users to adjust the overall position and scale of the preset.
Each preset in ProScroll includes a minimalistic text box that can be stylized using a variety of controls. Change the color, opacity, outline, width, length, height and roundness using a series of simple sliders and color pickers. Then, editors have the option to turn on a custom background that allows them to apply media within the text box.
ProScroll is a versatile and universal set of text animating tools designed exclusively for Final Cut Pro X. The possibilities are endless when it comes to the ways ProScroll can be used. Create a bulleted list, display rankings and lyrics, or simply add informative text in a new and exciting way. Pixel Film Studios makes editing easy with ProScroll for Final Cut Pro X.
Established in 2006, Aliso Viejo, California-based Pixel Film Studios is an innovative developer of visual effects tools for the post-production and broadcast community. Their products are integrated with popular non-linear editing and compositing products from Apple FCPX. Apple, the Apple logo, Mac OS X, and Macintosh are registered trademarks of Apple Inc. in the U.S. and/or other countries. All other trademarks and trade names are the property of their respective owners.