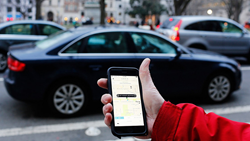 Potentially deadly accidents can and do take place in all kinds of vehicles.
Los Angeles (PRWEB) September 11, 2017
An August 10th article on the MIT Technology Review discusses a study that investigated the impact on residents of Austin, Texas when the city temporarily stopped ridesharing services Uber and Lyft from operating inside the state capitol. The study found that not only did many Austinites use their cars more to get from point to point, a stunning nine percent of respondents said they had actually purchased their own cars as a result of the suspension, while only three percent switched to public transportation. Los Angeles based personal injury firm Legal Defenders at the Law Offices of Burg & Brock notes that the study underlines the increasingly ubiquitous nature of ridesharing services, and adds that Lyft and Uber customers need to be aware that, even though they aren't driving as much as they once might have, they still need to keep their eyes and ears open for maximum safety.
The Law Offices of Burg & Brock notes that ridesharing drivers are no more immune from collisions than drivers of personal autos, and that potentially deadly accidents can and do take place in all kinds of vehicles. The firm notes that it is important for customers to be aware that, while the vast majority of Uber and Lyft drivers are good drivers and upstanding members of the community, they are still known to get into traffic collisions. Customers are well advised to be aware of their driver and surroundings and stay alert for any signs that the driver might be distracted or impaired by lack of sleep. The firm also notes that it is always a good idea for ridesharing customers to know about their legal rights in the event of an unfortunate incident.
The law firm also points out that, on the other side of the equation, more and more individuals are looking into employment with one of the big ridesharing services. The Law Offices of Burg & Brock says that driving for one of the services can be an outstanding way to make extra money and, in some cases, to earn a living when other jobs might be hard to come by. However, the firm also suggests that anyone taking up this kind of position needs to be aware of the responsibility and potential risks they are taking on by driving for long time periods and welcoming strangers into their car. In particular, the firm notes that new ridesharing riders, and everyone else for that matter, need to be aware of the importance of being well-rested and alert every time they get behind the wheel. They also add that anyone starting any new job, especially one involving transportation, should also take a moment to familiarize themselves with their rights and any possible legal exposure.
Legal Defenders at the Law Offices of Burg & Brock is led by Dr. Cameron Yadidi Brock. Interested readers who would like further information are invited to contact the offices at (800) 926-8197 or visit the firm's website at http://www.LegalDefenders.com.