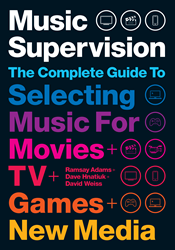 The book instructs the next generation of music supervisors, as well as working media professionals and music artists, on the intricacies and best practices of this thriving media business sector.
(PRWEB) September 11, 2017
Music Sales Group is pleased to announce the publication of Music Supervision: The Complete Guide for Selecting Music for Movies, TV, Games, and New Media (Schirmer Trade Books; $24.99; ISBN: 978-1468315042). This second edition is the newly revised, definitive book on music supervision, which guides students and professionals through real-world scenarios and legal land mines, explores sound design, and profiles key players in the industry such as Emmy-nominated Thomas Golubić ("Breaking Bad," "Better Call Saul"), Peymon Maskan (Apple, Media Arts Lab), Julie Houlihan ("Malcolm In the Middle"), Andy Ross (Whiplash), Vanessa Jorge Perry (film trailers for Lord of the Rings and Harry Potter), among others. Music Supervision has been established as the leading textbook in the field since the book's first edition debuted in 2005.
This release comes at a relevant time as awareness for the field of sync licensing, or placing music to picture via synchronization licensing, has greatly grown since the first edition's release. It also coincides with the first year the Emmy Awards recognize music supervision as its own category. In addition, the ongoing expansion of major players such as Amazon, Apple, Facebook, Hulu, Vice and more into original content have contributed to a fast expansion of scripted and unscripted shows, documentaries and movies. Career opportunities are increasing in step for the skilled music supervisors who are vital to the success of this content. Music Supervision walks the reader through the process of syncing music to picture from the first spotting session to appearing on screen.
Authors Ramsay Adams, David Hnatiuk, and David Weiss co-wrote Music Supervision as a resource for those who have an interest in how music is selected for media and film but aren't aware of how it gets done, from start to finish.
"Music supervision, or sync licensing music to media, is more important than ever to standout content creation," says co-author of Music Supervision, David Hnatiuk. "The second edition of the book instructs the next generation of music supervisors, as well as working media professionals and music artists, on the intricacies and best practices of this thriving media business sector."
The book, a comprehensive guide to pairing sound with visuals, has also equipped a vast audience of aspiring artists, bands, producers, composers, music publishers and record labels with the knowledge of how to best approach music supervisors and get their music synced to picture, a key revenue stream in today's music marketplace. The increasing role of music supervision in artist development and branding for global corporations is also addressed. An online accredited and unaccredited companion course to the book is set to launch in Q4 2017.
For more information about Music Supervision, speaking opportunities, press inquiries or for review copies or author interviews, please contact Melissa Golebiowski, Lost Literati PR at melissa (at) lostliteratiPR.com
ABOUT THE AUTHORS
Ramsay Adams has extensive experience in branding the look and sound of television, print and new media, from TV shows, film, web design and advertising. At Fox News Channel he was a graphic designer, 3D animator, eventually taking the role of Music Director for all programming. Prior to his television experience, Adams worked as a music manager with an A-list clientele that included Richie Sambora and The Trans-Siberian Orchestra. He has worked with James Taylor and Leonardo DiCaprio on environmental campaigns and helped DiCaprio on the Millennium Earth Day celebration. Adams founded Catskill Mountainkeeper in 2006, and in 2014 he became the Executive Director of Water Defense, a nonprofit founded by Mark Ruffalo. In 2015, he executive produced the award winning documentary "Catskill Park" featuring Robert F. Kennedy Jr., Theodore Roosevelt IV, Debra Winger and James Prosek and he continues to work on film and TV projects that further the betterment of humankind.
Dave Hnatiuk is an experienced music for media composer/producer, music supervisor, sound engineer, and voice over artist/producer. He is a former staff music supervisor at ABC Disney as well as music director and founder of the music department at the #1 rated Fox News Channel. He is currently a freelance consultant for Viacom where he performs a multitude of services including Music Supervision, voice over performance and production, original composition, and sound engineering. He is also the official voice of MTV Live (formerly known as Palladia). As one of the three current and founding members of the first ever in-house original music production entity at Viacom, Dave and his EarShock co-writers composed the main theme songs for MTV's "The Challenge: Rivals 3" in 2016 and MTV's upcoming 2017 reality series "90's House", as well as the original score for several network promotional campaigns, and recently finished working with Vanessa Williams on a cover of 50 Cent's P.I.M.P for her upcoming new VH1 series "Daytime Divas".
His music supervision work has been featured in several features and documentaries for Sony Classix, New Line Cinema, Weinstein Company among others.
David Weiss is the founder of DLB Media, which guides content strategy for a wide range of verticals including content creation, post production, VR, fixed wireless, and music technology. DLB Media has provided its expertise to multi-million dollar corporations as well as solo operators. He is also Founder/Editor of Sonic Scoop, the leading online news source reporting on the NYC and LA-area music, sound and recording industries. An internationally published journalist, Weiss has been covering audio production for Audio Media and Mix magazine since 1999. His work has appeared regularly in publications such as Drum!, Time Out New York, Remix and numerous other print outlets on music and technology.