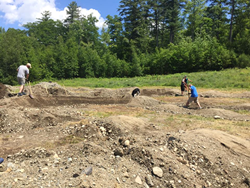 One of the best things about mountain biking is the effect is has on the community. People love to participate, whether they're mountain bikers or not...
Littleton, NH (PRWEB) September 08, 2017
The Grand Opening of the PRKR MTN Trails Pump Track is scheduled for Sunday, September 10, 2017 from 1pm to 3pm in the PRKR MTN parking lot off School St. in Littleton, NH. The event is free of charge and will include a kids bike skills clinic, Strider demos, music, food and beverages. Littleton Bike and Fitness will be supplying pedal-less Strider bikes from Specialized for use throughout the day.
PRKR MTN Trails is a 22 mile trail network that has been quickly expanding since it opened in 2015, consisting of handbuilt, community and volunteer maintained trails. The pump track was designed to be a way to attract kids to learn the mechanics of mountain biking and use it as a stepping stone to graduate to PRKR's full trail network. Although PRKR's main draw is mountain biking, the intention is for the trails to be free and available to runners, hikers, and nordic skiers, as well. The true multi-use nature of these trails was on display this summer as PRKR hosted several stops in the very popular "Shoefly" trail running series.
"We're seeing huge growth potential in mountain biking across the northeast with the success of Kingdom Trails in Vermont and the expansion of trail networks in Gorham and Franconia. It really makes Littleton a great destination for a mountain biking weekend or getaway because it's so close to these other great trails, in addition to the growing network we have here." says Taylor Caswell, Commissioner of Business and Economic Affairs for New Hampshire and Founder/Board Chair of PRKR MTN Trails. "Another real benefit that we have in Littleton is the close proximity of our trailheads to the downtown area. This accessibility is super convenient for riders, and the views from PRKR are amazing." Littleton has been named one of America's best Main Streets by Huffington Post, Outside Magazine and others because of it's picturesque mountain backdrop, riverside location, rich history and bustling downtown, filled with restaurants and shops.
The PRKR Mtn Trails Pump Track has been a community wide effort built through volunteer time and donations. Littleton Water and Light provided the property and cleared the land for the track, which now sits atop of the town's original reservoir, and The town's Public Works Department and Dodge Excavating graded, leveled and built the parking area. When asked what his favorite thing about the project has been, Caswell replied, "One of the best things about mountain biking is the effect is has on the community. People love to participate, whether they're mountain bikers or not, people and local businesses volunteer their time, all because they're thrilled to see where it's going and they know it's an investment into their community." PRKR MTN Trails plans to always remain a free experience, so their ability to expand and improve the 800+ acres depends on donations from trail users and local business as well as volunteers. Judging from the optimism of Caswell and the public response to the project, it seems clear that the community and economic impact of PRKR on Littleton shows no signs of slowing down. "From what we have seen so far, from the rider's reaction to the community support, we see a lot of improvements to come"
To experience, volunteer, or donate visit http://www.prkrmtn.org or on Facebook @PRKRMTN
To find out more about all things Littleton visit http://www.golittleton.com