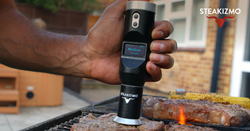 My team and I developed Steakizmo in order to create a simpler, cleaner and fast way to consistently check the level that a steak is cooked.
London, England - (PRWEB) September 08, 2017
(September 8, 2017) - Whether users prefer a tender, medium Ribeye or a juicy, rare New York Strip, grilling the perfect steak just got a whole lot easier thanks to UK-based start up, Valorous Enterprise. The team launched their grilling gadget, Steakizmo yesterday on Indiegogo with an £62,000 funding goal.
Designed to accurately test a steak's firmness while cooking, the tool uses a special pressure sensor to test the meat without piercing it. Steakizmo improves on the current methods by eliminating the need for fussy probes, messy wires or inconsistent fingers and creates a seamless process, ready to test a new steak every three seconds.
Steakizmo, which is already fully developed and ready for manufacture, provides consumers with a clear and accurate reading. Users simply cook the steak in their desired fashion and then place Steakizmo on the steak while cooking. Within seconds, Steakizmo's unique sensor technology, based on an age old chef's method, will consistently determine the level to which the steak is cooked based on its firmness and display "blue," "rare," "medium rare", "medium," "medium well" or "well done" on the LCD screen. Steakizmo provides users with a reading in as little as three seconds on a clear, digital display.
"As an avid meat-eater, I was fed up by constantly eating overcooked steak and I found that not only are thermometers fiddly and slow to use, I also hated that you had to to pierce your steak over and over with a probe" said Co-founder Andrew van der Westhuizen. "My team and I developed Steakizmo in order to create a simpler, cleaner and fast way to consistently check the level that a steak is cooked."
Steakizmo fits easily within the palm of a hand making it easy to travel with and store amongst other kitchen tools and utensils. The main body of the tool is water resistant, while the detachable component that is used to touch the steak is dishwasher-safe. This patent-pending brand new grilling device is now available on Indiegogo starting at £60, which is 29% off its retail price. Check out the campaign here.
About Valorous Enterprise LTD
Based in the U.K., Andrew and Bhav established Valorous Enterprise in February 2014. After a lot of research, testing, and patent searches, the duo realized Steakizmo could actually become a reality.
Valorous is owned by Andrew, the inventor, and Bhav Buhecha, who provided much of the funds for the development of the device. The team also consists of experts in their fields, which includes Engineering, Software Development, Electronics, Design, Marketing and Patent Law. For more information, visit http://www.steakizmo.com.