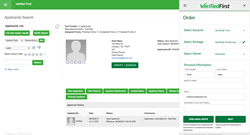 Brian Kelly said, "We are excited about offering a complete electronic on-boarding solution!"
Farmington, CT (PRWEB) September 11, 2017
The iRecruit and Verified First partnership creates a complete on-boarding solution. The SaaS applications offered by Verified First and iRecruit are integrated via a patent-pending technology that was developed by Verified First.
Verified First provides one of the quickest and most efficient background and drug screening services on the market today. iRecruit is an easy to use applicant tracking and recruiting software that includes an electronic onboarding component.
Managing Partner of iRecruit, Brian Kelly, said today, "For several years, clients have been asking about integrating iRecruit with a background screening provider. Over the years we have researched several screening services. It wasn't until we came across Verified First that we were willing to make the move. Verified First has phenomenal customer service, and the integration process was so quick and smooth, we knew it would be both easy for our customers to use and provide excellent value. We're pleased to offer this new integration to our customers."
It's easy to use! Customers can order a background check, and access results directly from the applicant profile page on the iRecruit account. Verified First collects the background check authorization directly from the candidate, and customers are able to quickly select the type of background check they need to do including Social Security Address Trace, eVerify, Nationwide Criminal Database, and more. All results adhere to the Fair Credit Reporting Act. Seamless integration improves the hiring workflow so customers can perform background checks faster, and for less.
About Verified First
Headquartered in Meridian, Idaho, Verified First is the premier background and drug screening company. Our customizable search solutions help companies of all industries validate and verify potential employees. We take pride in our ability to work with organizations of all sizes, and our global reach enables us to solve even the toughest background screening challenges quickly and efficiently. http://www.VerifiedFirst.com
About iRecruit
Headquartered in Farmington, Connecticut, iRecruit is a cloud-based applicant tracking, recruiting and paperless electronic onboarding software. iRecruit is designed to provide any size of business a cost effective, affordable and truly simple way to manage the recruiting and onboarding process online. For additional information, or to set up a demo of how Verified First works with your iRecruit account, please contact us or call 800-517-9099.