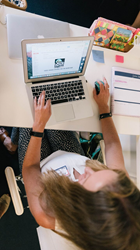 (PRWEB) September 08, 2017
Face to face networking is key to building professional relationships within the digital marketplace.
According to Fast Company, 93% of marketers use social media for business only. With more and more companies managing a social media strategy, in-person connection can be left out of the mix.
Networking in the digital age isn't merely about connecting with customers, clients, or suppliers, it's about staying connected. Over 51% of Instagram users admit to accessing the platform daily, and 35% say they look at the app several times a day – what if you could tap into that audience for your next business event?
Constantly searching for new, innovative ways to connect with clients in a social media world, companies are quickly learning the power of combining in-person networking events with the fast-rising social media industry. Embracing this new frontier in fun, creative ways, GrubHub launched the first-ever "SnapHunt," a scavenger hunt completely through Snapchat. Creating a buzz on social media, networking events like this can help to boost the reach of your business.
Constantly finding creative ways to stay connected, Hustle Humble hosts bi-monthly networking events and offers a monthly subscription box with best practices for entrepreneurs. Not only do they encourage traction on social media with the use of a curated hashtag to mark each event, the team includes crucial elements such as speed pitching to different brands which gives real hands-on experience with experts, as well as an innovative spin on the traditional meet and greet.
Committed to crafting monthly content, entrepreneurs are encouraged to share their boxes over several platforms – keeping them involved while active on social media.
The two-fold name Hustle Humble has a significant meaning to founders Kailynn and Nikki. When they started their first company 13 years ago, they "hustled" around the clock to accomplish their goals. More than speed, it was about producing quality work. With the help of the Lord's grace and guidance, they were able realize their dreams. Above all, these self-made women keep their ethics while remaining humble through all of their blessings. As of 2016, their expanding enterprise includes Chic Blvd, ChicBuds and ChicExecs.
###
Aleah McGlover
Senior Public Relations Account Coordinator
ChicExecs PR
ChicBlvd Inc. LLC
820 Los Vallecitos Blvd Ste A-C
San Marcos, CA 92069