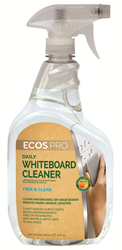 Cypress, CA (PRWEB) September 08, 2017
Earth Friendly Products is taking its 50th anniversary celebration on the road to the ISSA/INTERCLEAN® North America trade show in Las Vegas, Nevada. To mark its half century of creating environmentally friendly cleaning products, the company is showcasing its ECOS™ Pro commercial cleaners at the event. The entire line of ECOS™ Pro plant-powered cleaners will be on display at Earth Friendly Products' booth #4687 from September 11–14, 2017, at the Las Vegas Convention Center.
ISSA/INTERCLEAN® North America is the largest trade show in the commercial cleaning industry, bringing together over 16,000 industry professionals and 700 vendors from across the globe to showcase some of the most innovative cleaning products in the market. Earth Friendly Products will be on hand to showcase its latest innovations in green science and safer cleaning formulations.
The ECOS™ Pro line of commercial cleaners is formulated specifically for applications such as food service, hospitality, manufacturing, and education. These industries are increasingly aware of the potential threats to worker safety and the environment from chemical-based cleaners, and they are looking for smarter, affordable solutions.
ECOS™ Pro is a safer alternative to traditional institutional cleaners that can endanger the health of workers, consumers, and students. Like all ECOS™ products, they are made without dyes, parabens, phosphates, or phthalates, and they are pH balanced, readily biodegradable and greywater- and septic-safe.
ECOS™ Pro products are GHS compliant, and many have been certified by the USDA BioPreferred® and U.S. Environmental Protection Agency's Safer Choice programs. In fact, over 100 ECOS™ products are now certified Safer Choice by the U.S. EPA, which means that every ingredient is the safest in its class and that the products have proven superior performance. Earth Friendly Products is a founding member of the Safer Choice program and is a two-time winner of the coveted Safer Choice Partner of the Year award.
This year, ISSA/INTERCLEAN® is partnering with the Healthy Schools Campaign to present a track on green cleaning in schools, including workshops and panel discussions designed to give education professionals the tools they need to implement effective green cleaning programs. Earth Friendly Products is proud to support this mission as a Gold Sponsor of the Healthy Schools Campaign's Green Clean Schools program at the show.
"As a mom, I'm passionate about creating a healthy environment for our children," explains Kelly Vlahakis-Hanks, Earth Friendly Products' president and CEO. "So often the traditional products used to keep our schools clean can contribute to asthma and other very serious health problems. The good news is that we can protect our kids, our teachers, and the workers who clean our classrooms if we just give schools the green cleaners they need to safely and effectively get the job done."
ABOUT EARTH FRIENDLY PRODUCTS
Family owned and operated since 1967, Earth Friendly Products is the maker of ECOS™ Laundry Detergent and over 200 other environmentally friendly products that are safer for people, pets, and the planet. ECOS™ plant-powered cleaners are hand-crafted in the U.S. using thoughtfully sourced global ingredients. Made without dyes, parabens, phosphates or phthalates, ECOS™ cleaners are pH balanced, readily biodegradable, and never tested on animals. Earth Friendly Products is a leader in sustainable manufacturing with carbon neutral, water neutral, and Zero Waste Platinum certified facilities that save over 53 million pounds of carbon dioxide annually and divert over 95% of all their waste from landfills. The company has received many awards for its innovations in safer green chemistry and is a two-time winner of the U.S. EPA's coveted Safer Choice Partner of the Year. ECOS™, Baby ECOS™, ECOS™ for Pets!, and ECOS™ Pro products are available at major club and grocery retailers and natural foods stores throughout the U.S., in over 60 countries, and online at http://www.ecos.com.
###