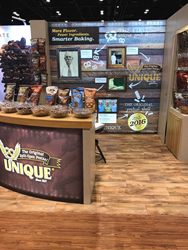 Reading, Pennsylvania (PRWEB) September 11, 2017
Unique Pretzel Bakery, Inc. will be exhibiting at Natural Products Expo East in Baltimore, MD this week. Natural Products Expo East is a leading trade show in the natural, organic and healthy products industry. This event attracts a tremendous amount of industry professionals, as well as, exhibitors that showcase in the Baltimore Convention Center. Attendees travel to this top rated East Coast tradeshow to see new products and developments, learn about industry trends, increase product or brand awareness in the industry, and to network with colleagues and vendors.
Visit Unique Pretzel Bakery, Inc. in Booth #2207 to taste and learn about their delicious pretzels that are made with five simple ingredients. Unique Pretzels is dedicated to making pretzels with more flavor, fewer ingredients and a smarter baking process. Try their top rated pretzels in the following popularity order: Original "Splits," Original Shells, Extra Dark "Splits", Multi-Grain "Splits", Extra Salt "Splits", Unsalted "Splits", Sprouted 100% Whole Grain Shells, and Sprouted 100% Whole Grain "Splits."
Unique will be holding a Happy Hour in Booth #2207 on Thursday, September 14th from 1 PM to 5 PM and musical entertainment by Hunter Rich starting at 3 PM.
To schedule a meet-up, please visit them at their booth or contact the sales team directly by calling 1-888-477-5487 x 1302 or rrhoads(at)uniquesplits(dot)com.
###
ABOUT UNIQUE PRETZEL BAKERY
Unique Pretzel Bakery, Inc. has been growing in popularity by offering the highest-quality pretzels for 96 years. Famous for their baked, split-open pretzel "Splits" and their bite-sized, hollow Shells, Unique Pretzels owned by the Spannuth family has been serving up delicious pretzel products for six generations. Brand loyalty is inspired by the original recipe and an offering of an honest, time-tested snack. With industry longevity and a rich history, Unique produces pretzels consumers love, and retailers can rely on. Recognized in 2016 as "Snack Producer of the Year" by Snack Food & Wholesale Bakery Magazine, a top source of production, technology and product news, ideas and solutions for the changing snack industry.