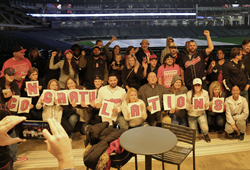 "We are excited for the Indians, and we're even more thrilled for our customers"
Cleveland, OH (PRWEB) September 11, 2017
Universal Windows Direct, one of the nation's fastest-growing exterior remodeling companies, delighted approximately 250 customers between the Cleveland and Columbus markets with free products on Thursday, September 7. A special promotion that was effective between July 1-31 warranted the products, and a total of $1.7 million worth of windows, roofing, and siding was given away.
The exterior remodeling company partnered with the Cleveland Indians and ran an exclusive promotion: if the Indians win 15 consecutive games starting August 1, every customer who ordered product in July will get it for free. The Cleveland Indians won their 15th consecutive game against the Chicago White Sox with a score of 11-2.
The promotion was inspired by the Indians' winning streak from 2016, where they won 14 games in a row. This year, Universal Windows Direct is celebrating its 15th anniversary, and the idea of the 15-game winning streak promotion known as "Buy in July" was born.
A watch party was held at Progressive Field on September 7—the night of the final game. In addition to a big night for Universal Windows Direct, Thursday night's win also set the new franchise record for the Cleveland Indians' most consecutive wins.
"We are excited for the Indians, and we're even more thrilled for our customers," said Mike Strmac, founder of Universal Windows Direct. "We appreciate every single customer, and we love that we can give back while celebrating the big victory with our partner, the Cleveland Indians."
Universal Windows Direct is one of the top sources in Cleveland for energy efficient exterior products. They are known for their UniShield® replacement windows and vinyl siding. Universal Windows Direct is also partnered with Owens Corning for premium roofing systems.
About Universal Windows Direct
Universal Windows Direct is an exterior renovation company based out of Cleveland, Ohio. It was founded in 2002 by William Barr and Michael Strmac, who had a mission to provide the highest quality home improvement products at the best market prices possible. Today, Universal Windows Direct is one of the fastest-growing home improvement companies in the country that offers replacement windows to fit nearly any budget.