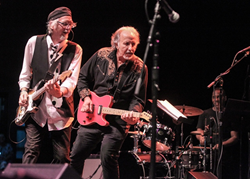 McKeesport, PA (PRWEB) September 11, 2017
Who: Auberle
What: For the 13th consecutive year, Auberle will hold their annual fundraiser, Voices Carry, presented by Huntington Bank, benefiting the at-risk children and families of Auberle. The October 3rd event will be at STAGE AE from 6:00-10:30 p.m. and features a lineup of dozens of well-known Pittsburgh musicians. These artists donate their time and talent to raise funds for Auberle by performing original music and recognizable covers in the authentic style that made them famous. The 13th Annual Voices Carry will be emceed by WDVE morning show host, Randy Baumann. Event performers include Donnie Iris, Joe Grushecky, Chris Higbee, Etta Cox, Scott Blasey of The Clarks, Jeff Jimerson and many more.
Where: STAGE AE, 400 North Shore Drive, Pittsburgh, PA 15212
When: Tuesday, October 3, 2017 from 6:00-10:30 p.m.
Why: Voices Carry was launched to raise awareness and funds for Auberle's 16 program areas that provide services to over 3,800 at-risk children and families each year.
Information: For more details about the event and to schedule an interview and/or secure a media pass to the event, please contact Deb Hilton at 412-673-5856 ext.1315 or e-mail debh(at)auberle.org
Additional Supporters: Additional sponsors of this year's event include: BNY Mellon, Quest Diagnostics, UPMC Health Plan/UPMC McKeesport, Willis Towers Watson, Smithfield Trust Company, Ideal Integrations, Brentwood Bank, Centimark (Questmark), Bulldog Office Products and the Eaton Corporation.
About Auberle:
Since 1952, Auberle has been dedicated to community, strong families and successful youth. Auberle serves over 3,800 at-risk children and families annually in eight counties in southwestern Pennsylvania. Today, we offer 16 programs including preventative and community-based services, with about 60% of our clients served in their home, school or in their community. Auberle's services include residential care, foster care, emergency shelter, in-home intervention, education, workforce development, drug and alcohol and mental health programs. Auberle is a recipient of the Wishart Award for Excellence in Non-Profit Management and was named Agency of the Year in the United States by the Alliance for Strong Families and Communities, the largest network of human services organizations in the United States.