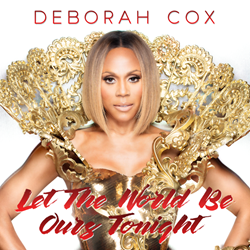 New York, NY (PRWEB) September 11, 2017
Grammy® Award-nominated and multi-platinum R&B recording artist and film/TV and Stage actress Deborah Cox's latest single "Let the World Be Ours Tonight" has secured the number one spot on Billboard Magazine's Dance Club Chart for the week of September 16, 2017. "Let the World Be Ours Tonight" made its "Hot Shot Debut" on Billboard's Dance Club Chart at #37, and reached the #1 position after just nine weeks on the chart.
This marks Cox's thirteenth number one single on Billboard's Dance Club Chart. The single joins Cox's other Dance Club Chart Number Ones including: "Higher" (2013),"If It Wasn't For Love" (2012), "Beautiful U R" (2009), "House Is Not A Home" (2006), "Play Your Part (remixes)" (2003), "Mr. Lonely (Remixes)" (2002), "Absolutely Not" (2001), "I Never Knew" (2000), "It's Over Now" (1999), "Nobody's Supposed To Be Here" (1998), "Things Just Ain't The Same" (1997), and "Who Do U Love" (1996).
Deborah Cox is best known for her 1998 hit single "Nobody's Supposed To Be Here," which held the record for the longest-running number one single on Billboard's Hot R&B/Hip-Hop Singles & Track Chart (14 weeks), a record held for nearly eight years. That single earned her an NAACP Image Award nomination, a Soul Train Award, A Lady Of Soul Award, Best Female Vocalist Juno Award nomination and a Billboard Music Award nomination for R&B Single of the Year.
Cox spoke with Billboard Magazine about this remarkable achievement and stated, "I'm especially excited about this particular song because it is my thirteenth Number One! Thirteen has always been my special number. I'm over the moon about this! Yes..let the world be ours tonight!"
The Canadian born star co-wrote the feel good single with UK production team SOULSHAKER (Warren Meyers, Gary Manktelow, Matt Meyers) and Jenna Doyle of Audiofreaks, one of the most prominent songwriting, production and remix teams in the world of club, dance and pop music. The powerful anthem beautifully delivers a message of acceptance, hope, and love, a theme which Cox has stayed true to throughout her incredible career and has helped her become a beloved iconic figure in the LGBTQ community. In 2015, she received the Out Music Pillar Award; she was honored by The Harvey Milk Foundation at Diversity Honors for her efforts in the fight against HIV/AIDS in the LGBT community. With the help of remixes from some of today's top producers including StoneBridge, Tony Moran, Bimbo Jones, Dasco and more, "Let the World Be Ours Tonight" has been resonating on dance floors all over the world.
"Let the World Be Ours Tonight" is available for digital purchase on all major platforms including Amazon, Google Play, and iTunes. It is also available to stream on Apple Music and Spotify.
About Radikal Records:
Established in 1990, and based just outside of NYC, Radikal Records is one of the United States' leading independent record labels. In business for more than 25 years, they are focused on marketing, promoting, and distributing artists – not only to audiences in the USA, but also on a global basis to partners world-wide. Artists included on their roster over the years include: Kristian Nairn, DJs From Mars, Tony Moran, Salt Ashes, 2 Unlimited, N-Trance, Zombie Nation, ATB, Yello, Scooter, Schiller, Blank & Jones, Cosmic Gate, Sinead O'Connor, Ayah Marar, and many others. For more information visit: http://www.radikal.com