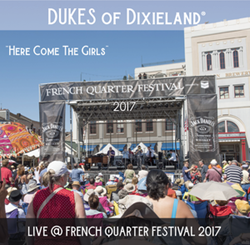 (PRWEB) September 12, 2017
"The DUKES of Dixieland are sure to bring their signature sound across to their audiences. The authentic New Orleans essence is all over "Here Come The Girls". I'm sure the audience was rockin' in their chairs and taking in the down home vibe of this signature band. It's great to feature a band with such versatility yet stays close to their New Orleans roots", says Jaijai Jackson of The Jazz Network Worldwide.
The DUKES of Dixieland band members consist of Leader, Kevin Clark on trumpet, Ryan Burrage on clarinet, Alan Broome on bass, Joe Kennedy on piano, Wes Anderson, trombone and David Mahoney on drums.
"This project is another departure from our Trad jazz and New Orleans Rhythm & Blues legendary style.  This album is more boogie woogie written in a style of New Orleans R&B", says leader Kevin Clark
Producer John Shoup, re-formed the DUKES of Dixieland and opened their jazz club atop the Monteleone Hotel in the French Quarter, 43 years ago in 1974.
The DUKES have created a rigorous schedule throughout the years traveling overseas to perform at festivals and Performing Arts Centers in the USA. DUKES' PLACE was always home to them until 1986 when they moved to a new venue on Bourbon Street called MAHOGANY HALL. Twenty-five years ago in 1992, they moved home base to the STEAMBOAT NATCHEZ, where they have performed 300 nights a year ever since. 
As seasoned veterans of their craft this band has clocked over 30 concerts a year offering eight different themes from"Mardi Gras"; "Blues on the Bayou"; "Symphonic Jazz"; "Voodoo Revue"; "Celebrating Satchmo"; "New Orleans Jazz Legends" and "Back to Bourbon Street". The symphonic jazz started in 1974 when the DUKES performed in Grant Park with the Chicago Pops Orchestra and has continued more recently when they performed 5 nights in Symphony Hall with the Boston Pops. They are looking to continue to offer their artistry worldwide through all types of music festivals that would enjoy the variables of musicianship they offer for the 2018/2019 festival rosters worldwide.
Outside of their dixieland name, they play New Orleans music, from Dr. John, Fats Domino, Huey Smith and Louis Prima. With a repertoire of roughly 400 tunes, there is still room for their original compositions as the pre-eminent New Orleans band and New Orleans Ambassadors.
Keeping their momentum alive, they found time to record 30 albums, one being GLORYLAND, that was nominated for a Grammy in the Gospel category, produced 3 PBS television shows "New Orleans Pops"; "Salute to Jelly Roll Morton" and "Celebrating Satchmo" as well as streaming one show a week on the internet. 
Be sure to catch their feature on The Jazz Network Worldwide at http://thejazznetworkworldwide.com as well as their official site at DukesofDixieland.com.
Follow The DUKES of Dixieland:
Facebook page: https://www.facebook.com/DUKESofDixieland/
Twitter: https://twitter.com/DUKESDixieland