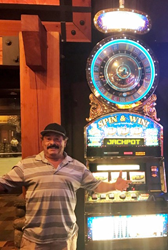 San Jacinto, CA (PRWEB) September 08, 2017
The lucky guest, Salomon Vallejo, hit the Progressive Jackpot for over $100,000.00 on the 'Big Monte Spin & Win Machine' on Tuesday, September 5th, just one day after another guest won a 3.2 million dollar jackpot.
Salomon, a Riverside California resident was stopping in for a night of fun when he won big while playing the 'Big Monte' machine. He placed a $3.00 bet that triggered the progressive jackpot, transforming his ordinary night out into an extraordinary dream come true.
"Being a part of an experience like this is what makes what we do here at Soboba Casino so rewarding," said Joe Whitman, Director of Slot Operations at Soboba Casino. "We love it when our guests win big. We continue to have more jackpots and more winners than ever before - and that's why Soboba is the place where everybody goes to play. They call us the luckiest casino in Southern California for a reason!"
While jackpots are being won every day at Soboba, it is particularly exciting when a guest hits a six figure win. According to witnesses, the gaming floor began to buzz with excitement after the big win and guests could be heard cheering and rooting for Salomon.
According to Soboba Casino General Manager Scott Sirois, "It is a privilege to be here, watching dreams come true right before our eyes." He continued, "We build relationships and connections with all of our guests. When they win big, we win big. It is an exciting time for all of us."
Soboba Casino features approximately 2,000 of the newest, hottest slot machines, an expansive and modern non-smoking room, 20 classic gaming tables featuring all your favorite card games, and a large outdoor event arena which easily accommodates over 10,000 people. Need to recharge & refresh? Visit the cozy Soboba Cafe and Coffee Kiicha, or experience AC's Lounge with full cocktail bar and three giant HD flat screens including the "Sobobatron", the Inland Empire's biggest HD video wall.
Soboba Casino is proudly owned and operated by the Soboba Band of Luiseno Indians. Come join us for all the fun and then some! Soboba Casino. Where Everybody Goes to Play! For more information visit: https://soboba.com/