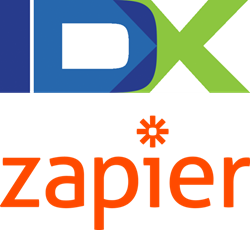 With IDX Leads, your CRM automatically has the data to power your follow ups, agent assignments, drip campaigns, and tons of other features.
Eugene, OR (PRWEB) September 14, 2017
IDX, LLC, a leading provider of Software as a Service (SaaS) tools for real estate websites, today announced the launch of their full integration with Zapier's workflow automation software. Available immediately, this release allows clients to leverage MLS/IDX listings to collect qualified leads from high quality traffic. "IDX Leads" connects to over 40 applications, including Salesforce, Hubspot, Follow Up Boss, and more.
"The modern internet runs on APIs. Everything from your website, to your phone, to your smart toaster uses an API to communicate," says Antonio Ortega, IDX Broker's Developer Partnership Manager. "Sending data from one platform to another is easy when you're a coder, but that's not the case for most people. What makes Zapier awesome is how the platform gives the power of APIs to everyone."
A "Zap" integrates two apps through its Zap process. It is simply a trigger and a corresponding action. The IDX Broker/Zapier integration ensures lead capture is efficient and effective:

Automatically send new leads (as available) to the CRM every 15 min.
Eliminate the tedious tasks included in the sales funnel workflow.
Take advantage of "Zap templates" already created with popular CRMs.
"With IDX Leads, your CRM automatically has the data to power your follow ups, agent assignments, drip campaigns, and tons of other features. Plus, whether you're a single agent or part of a large brokerage, with so many CRM connections available, Zapier has lead automation for everyone." Ortega wrote in blog post. "Simply choose the CRM that works best for you, create a Zap, and become a lean, mean, lead nurturing machine!"
To learn more about the integration of IDX Broker and Zapier, visit https://zapier.com/zapbook/idx-leads/.
About IDX, LLC
Based in Eugene, Ore., IDX, LLC is nationally known as a leading provider of real estate search applications. IDX, LLC actively manages more than $2 trillion worth of active listing data from more than 660 individual Multiple Listings Services (MLS). IDX, LLC provides integrated IDX software, customizable listing search utilities and lead management tools for real estate based websites. In addition to the primary web-based software, IDX also provides an integrated WordPress widget for use in WordPress based blogs and websites (IDX Broker WordPress Plugin), as well as HTML Mobile Optimized Pages for all mobile devices. The entire suite of real estate software available from IDX is easy to manage and maintain, helping real estate professionals display real estate data from their MLS regardless of their technical ability. For more information on all the services provided by IDX, LLC, please visit http://www.idxbroker.com.
About Zapier
Zapier lets customers easily connect the web apps they use, making it easy to automate tedious tasks. With over 500 web apps, Zapier wants to empower businesses everywhere to create processes and systems that let computers do what they are best at doing and let humans do what they are best at doing. For more information, please visit zapier.com.