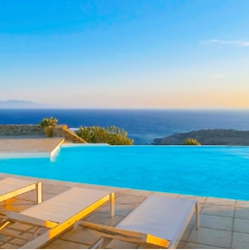 LIVE the DREAM!
Mykonos, Greece (PRWEB) September 11, 2017
Savvy people will always find a savvy new solution, in this case selling a much loved, unique dream villa on the Aegean paradise of Mykonos.
George and Jenny are the owners of this unique property, and they hit on the idea of giving everyone in the world with US$49.00 the opportunity of owning their luxury dream villa on Mykonos by participating in this world wide raffle.
In explaining the rationale George said "We have come to the time in our lives where our children have grown up and moved on and the villa was just far too big for us. We had to sell."
"The notion that someone, somewhere without necessarily having the funds to actually purchase our dream villa could continue living the same dream as George and I really appealed to us," added Jenny.
"It will certainly 'ease the pain' of leaving our dream villa. We know that we have been very fortunate to have this piece of paradise and we want to pass this on to someone else who may not be as fortunate as we have. Someone, who, through a US$49.00 ticket, can live the amazing dream of owning a multimillion dollar villa on the paradise of the Aegean," they both said.
The raffle is live now and tickets can be purchased at http://www.dreamvillamykonos.com there are also substantial discounts for multiple ticket purchases.
The terms and conditions of the raffle and the date of the draw are all outlined on the website.
"It feels right and we know that the villa will be won by the person who is meant to be here, wherever they come from and whoever they are. We are excited by the thought of passing on our blessing," Jenny and George concluded.
What will the lucky winner receive?
4900sqm of secluded land complete with lavish landscaping with stone paved pathways and a private small church and breathtaking views from all aspects.
The villa itself encompasses a 5-bedroomed main dwelling-house, with 3 (three), private, accompanying ensuite guest apartments and fully-equipped staff quarters
There is also an ecological infinity pool accompanied by a games room, bar, gymnasium and of course alfresco dinning.
The villa is stylishly furnished and an entertainers dream.
Words simply can't do justice to the full magnificence of this property. Take the opportunity to view the gallery.