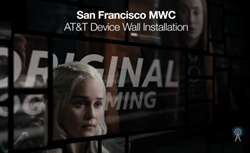 We wanted to create an original and provocative experience that played to the unique creative properties of dozens of mobile and big screen devices playing in unison. Perfect for this audience at the MWC! ~ Mark Reitz, Principal and ECD, Glass Eye
Atlanta, GA (PRWEB) September 11, 2017
GLASS EYE SCREENWORKS, an Atlanta-based digital agency known for creating immersive experiences, is unveiling a unique mobile installation at Mobile World Congress Americas (MWC) September 12-14, 2017 in San Francisco at the Moscone Center. Organized by GSMA, MWC is the largest annual global event in the mobile industry with more than 100,000 industry leaders, 2,200 exhibitors, 374 speakers and 3,600 members of the international media, and dozens of countries represented.
Glass Eye will be on-site as its client partner AT&T showcases its growing presence in Entertainment (which includes HBO, DIRECTV, and DIRECTV NOW) via Device Alive, a mobile digital experience that is live on more than 55,000 smartphones and tablets in more than 4,800 U.S. AT&T retail stores. Glass Eye Screenworks designed and programmed the visually stimulating installation for AT&T at MWC, which synchronizes images across 80 smartphones, tablets, and large-screen TVs. According to Mark Reitz, Principal and Executive Creative Director at Glass Eye, "We wanted to create an original and provocative experience that played to the unique creative properties of dozens of mobile and big screen devices playing in unison. Perfect for this audience at the MWC!"
The AT&T mosaic experience is the latest application of Glass Eye's proprietary DemoCast™ set of creative solutions. AT&T and its Device Alive program recently switched to DemoCast™. With DemoCast at its center, Glass Eye enables brands to push interactive marketing content to smartphones and tablets as well as large-screen displays, laptops and desktop PC's. As the mosaic wall demonstrates, the platform allows syncing of animations and videos across devices. It can dynamically update content to devices in real-time. It also allows clients to schedule campaigns, update content on site, and report usage in the field, allowing marketers to rapidly deploy micro-adjustments based on up-to-the-moment metrics.
Reitz voiced his enthusiasm for the MWC mission of creating connected lives, business and experiences, "Context is crucial across all user touchpoints. Everyone agrees that home, mobile, in-store, AR, VR and IoT experiences should be consistent across a brand, but they also need to be relevant to each step of the customer journey. Our solutions help brands integrate user experiences, and our real-time business intelligence allows for rapid adjustments to both content and product design."
About GLASS EYE SCREENWORKS
Glass Eye Screenworks is the leading global provider of Omni Channel, Omni Screen Solutions – integrated digital experiences that deliver the right content to the right device at the right time and place. In homes and in stores, on mobile screens and TV screens, from wearables to IoT to DOOH, our seamless creative and technical solutions connect with each other, connect with customers, and connect with brands. For more information visit: http://www.gesw.com.