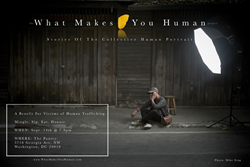 Washington DC (PRWEB) September 12, 2017
27 Million victims of human trafficking today… meet 6 of them.
Through a revealing photo exhibit, Washington DC editorial & commercial photographer Mike Stog of the WhatMakesYouHuman project (http://www.theWMYHproject.com) & Urban Light (http://www.Urban-Light.org) founder Alezandra Russell travelled to Chiang Mai, Thailand to sit down with six victims. We asked they consider one SIMPLE question...What Makes You Human?
Taught never to dream, conditioned not to care. They shared and we listened.
Mingle. Sip. Eat. Donate.
WHEN: Sept. 14th, 2017 @ 7-9pm
WHERE: The Pantry:
3716 Georgia Ave, NW
Washington, DC 20010
Photo: @MikeStog // http://www.MikeStog.com
WMYH: @whatmakesyouhuman
UL: @urbanlightthailand