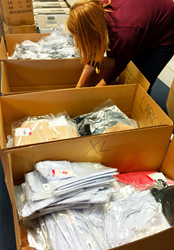 When we learned about Undies for Everyone and their relief efforts, we were inspired. We felt like we found our opportunity to make a meaningful contribution and hopefully make the coming days a little easier for some women. Janet Kraus CEO
Boston, MA (PRWEB) September 12, 2017
Direct sales e-commerce fashion startup Peach Inc., of Waltham, MA shares news of their $25K donation of women's underwear, bras and apparel for Hurricane Harvey victims. Peach sent over 9,000 pairs of women's underwear to Undies for Everyone, a Houston, TX charitable organization leading the effort to collect and distribute this critical basic necessity.
Hurricane Harvey caused massive destruction for Houston and the surrounding communities. Thousands of families lost their homes to never-before-seen flooding. Before even thinking to rebuild, many Hurricane Harvey victims are still trying to meet their most basic human needs – food, clothing and shelter.
Underwear is one of those basic, yet often overlooked needs. First, because underwear donations must be new and in-package, compared to clothing donations that can be worn, organizations receive far less underwear. Further, there are fewer organizations well suited to collect and distribute underwear donations to the people most in need.
This is why the work of the Houston-based organization, Undies for Everyone, is so powerful in the aftermath of Hurricane Harvey. The core mission of Undies for Everyone is to provide clean underwear to disadvantaged students in Houston and Dallas, believing clean underwear keeps children in the classroom and bullies at bay. Prior to Harvey, UFE distributed over 500,000 pairs of underwear to kids in need.
In the wake of Hurricane Harvey, UFE expanded their efforts to ensure all survivors - men, women, and children – have access to clean, in-package underwear. See a Refinery 29 article for other boots-on the-ground organizations to support flood victims in Houston.
Peach is a fashion startup that sells contemporary women's athleisure and intimate apparel. As a direct sales company, Peach brings their products to clients through a national network of stylists and e-commerce sales on their website. The city of Houston played a key role in Peach's launch and is home to many stylists and customers in the Peach community. Several local stylists were sent large boxes of apparel to distribute to other charitable organizations and churches, as well.
As Janet Kraus, CEO of Peach describes, "We were looking for ways to help those impacted by Hurricane Harvey. When we learned about Undies for Everyone and their relief efforts, we were inspired. We felt like we found our opportunity to make a meaningful contribution and hopefully make the coming days a little easier for some women."
To date, Undies for Everyone received 177,000 underwear donations to support Hurricane Harvey relief efforts. Interested in contributing to this effort, learn more here Undies for Everyone.
Sarah Kraus - Media Relations sarahkraus(at)discoverpeach(dot)com
Learn more about Peach