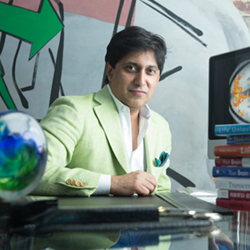 Los Angeles, CA (PRWEB) September 13, 2017
Studies suggest that after age 40, 77% of men complain of sleepiness after their meals. There are no readily available to statistics for women, but acclaimed author Srini Pillay, M.D., believes they are not immune either.
"Though there are dietary changes that you can make, the proper food balance is not always easy. Given these challenges, I've outlined a plethora of things one can do to be productive whilst in a food coma," says Dr. Pillay.
Srini reveals that things like taking a 90-minute nap, engaging in positive constructive daydreaming, moving your body and doodling, all work towards keeping oneself out of the nether region of food coma.
He goes on to say, "These methods are the working man's siesta - a form of not resisting or just relenting to the flow, but interacting with it, so that you can emerge from your food coma revitalized, more creative and ready for the rest of your day."
Dr. Srini Pillay is Assistant Professor of Psychiatry (Part-Time) at Harvard Medical School. He is known for combining "head and heart" (figuratively and literally) in an approach to personal development and goal mastery.
He has been an expert guest for CNN, Fox, NPR, The New York Times, Washington Post, Huffington Post, Harvard Business School, Cosmopolitan, Elle, Forbes, Fortune, Business Insider and many other news outlets in a variety of media and is known as a highly entertaining guest.
++++++++++++++++++++++++++++++++++++++++++++++++++++++++++++++++++++++++++++++++++++++++++++++++++++++
Dr. Srini Pillay shares more nifty ways to harness your brain's special capacities when in "downtime" mode in his new book, Tinker, Dabble, Doodle, Try: Unlock the Power of the Unforcused Mind (Balantine Books 2017).