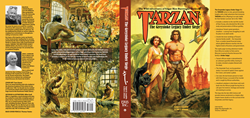 Tarzan: The Greystoke Legacy Under Siege, a work of fiction, addresses the still-unsolved 1985 murder of primatologist Dian Fossey
Tarzana CA (PRWEB) September 14, 2017
Edgar Rice Burroughs, Inc. has published Tarzan: The Greystoke Legacy Under Siege – a work of fiction that addresses the still-unsolved 1985 murder of primatologist Dian Fossey. Written by Ralph N. Laughlin and Ann E. Johnson.
Fossey, an academic and, to many, a real-life Wonder Woman, came to the Rwandan jungle intent on studying and preserving the habitat of endangered mountain gorillas. Fossey swiftly found herself combating the cruelty of poachers and the heartlessness of oil and mining interests, which indiscriminately killed the gorillas out of greed, while filling their pockets with ill-gotten gains. Fossey transformed from scholar to bush guerilla fighter, working to confuse and defeat these environmental terrorists. Tragically, Fossey was brutally murdered in her home in Rwanda on December 26, 1985. On that day, the world lost a champion of the environment, wild endangered habitats and animals.
Tarzan: The Greystoke Legacy Under Siege is a seminal book as it introduces four generations of Tarzan, including Tarzan's great grandson, Jonathan, who is unsure of his place in the Tarzan Legacy. Also in this novel, Tarzan's African estate is demolished and many people are killed by an unknown guerilla militia; Tarzan's son, Jack, is accused of Dian Fossey's murder and is sought by the authorities; and Tarzan's grandson, Jackie – who runs the behemoth Greystoke Trust – is accused and imprisoned for crimes against the Crown – a capital offense. This compelling tale, set in the 1980s, chronicles the family's epic battle for survival.
Enjoy this exciting new adventure [Book #4 in The Wild Adventures of Edgar Rice Burroughs' Series] available in: