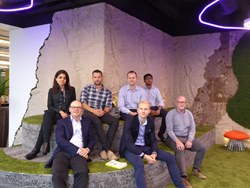 In the evolving market for equity research, quality and depth of research have become paramount
London (PRWEB UK) 12 September 2017
StockViews, the unconstrained equity research firm, today made its platform live to UK institutional clients. Over 70 London-based institutions will be trialling the innovative research platform, which aims to deliver the gold standard of high-quality, independent research while bringing transparency and meritocracy to the industry. Tom Beevers, CEO and co-founder said "In the evolving market for equity research, quality and depth of research have become paramount. This is what we have been focused on obsessively over the past few months, and we are now excited to share these efforts with our clients"
The launch is timed to coincide with the imminent adoption of MiFID II in January 2018, with asset managers in the UK set to make important decisions about the size of research budgets, how research will be paid for, and which providers to select. In the spirit of transparency, StockViews will offer a subscription at a one-price fixed cost, set at £25,000 for those subscribing ahead of 2018. StockViews clients who are part of this launch will have access on a one-month trial basis before deciding whether to subscribe.
Sandeep Bathina, COO and co-founder, a former Google engineer and AI expert who designed the platform, added "Offering institutional clients the ability to see peer ratings, transparent performance data of analysts and live access to financial models is just the start of a bigger mission to revolutionise the focus, delivery and value of traditional equity research"
StockViews analysts are unconstrained, operate across sectors and are unencumbered by the need to subsidise large sales and trading operations. Analysts are completely independent and are incentivized largely on the performance of their recommendations, resulting in a close alignment of interests with clients. Like other innovative firms in the industry, StockViews has moved away from a bonus led model, with analysts tiered in salary bands.
StockViews has been ramping up its research operations, headed up by Tim Insko, in preparation for the launch. Recent hires include Steve Barrett, a former partner at Nevsky Capital, Paul Allison, an ex-Tesco Pension Fund Manager and Mahgul Ansari, from CFRA, with the intention of adding more analysts in coming months. In addition, Julian Hull was hired from Redburn as Head of Sales in May.
Thomas Balk, Executive Chairman and co-founder, the former President of Fidelity International, said: "There is a huge opportunity for un-biased, differentiated analysis, which looks beyond the short-term corporate financial reporting cycle. Today's investment research landscape is still dominated by quantity over quality, a model which has been broken for a long time. This is where StockViews aims to offer maximum value for our clients' research budgets."
About StockViews Ltd:
StockViews Ltd strives to produce rigorous, conclusion based equity research that results in actionable investment ideas for Asset Managers. It uses technology to facilitate interaction with analysts and enhance the value of the research to Asset Managers. The research is rated by its clients and the value created measured against benchmarks. Every research note is evaluated through a scorecard that measures 16 data points across 4 categories (depth of research, scope of research, explanation of thesis and value to investors). Supporting financial models are constructed according to a consistent framework (based on McKinsey valuation methodology) with assumptions and mechanics clearly laid out.
StockViews is authorised and regulated by the Financial Conduct Authority (Reference number: 763770). Our offices are located at Level39, One Canada Square, Canary Wharf E14 5AB.
About MiFID 2:
MiFID 2 regulation, taking effect from January 2018, will require Asset Managers to separate payments for research to Investment banks from commission payments. As a consequence, it is expected that Asset Managers will either pay for the research directly out of their own P&L or charge the cost of research to clients through "Research Payment Accounts". This will result in more transparency for their clients and create opportunities for lower cost, independent research providers.
Contact:
Tom Beevers, CEO StockViews Ltd., +44 (0)203-824-0332, tom(at)stockviews(dot)com
Sandeep Bathina, COO StockViews Ltd., +44 (0)203-824 0331, sandeep(at)stockviews(dot)com