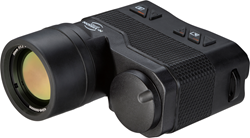 our ATLAS thermal binocular will help officers of the Victoria County Sheriff's department perform their duties more efficiently and productively
Needham, MA (PRWEB) September 13, 2017
N-Vision Optics, a small company that provides state of the art night vision and thermal imaging devices for military, law enforcement and civilian users is supporting order and recovery efforts in the aftermath of Hurricane Harvey by donating its newest ATLAS thermal binocular to the Victoria County Sheriff's Department.
Victoria County, TX is one of the counties that was hit the hardest by the recent hurricane with massive flood damage and loss of power. Local emergency officials are working non-stop to bring life back to normal and restore order.
"We strongly believe that small companies and individuals can effectively contribute to the massive recovery efforts that are taking place all over coastal areas of Texas and in other locations damaged by the recent hurricane. Support of the Law Enforcement community and first responder is our great privilege and civil responsibility," said president of N-Vision Optics Max Rivkin. He continued, "I hope that our ATLAS thermal binocular will help officers of the Victoria County Sheriff's department perform their duties more efficiently and productively".
About N-Vision Optics
N-Vision Optics is a privately owned company located in Needham, MA that develops and manufactures high end professional and consumer night vision and thermal imaging devices.