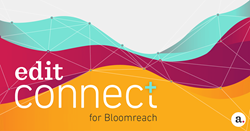 Richmond, Virginia (PRWEB) September 12, 2017
Authentic, a new type of digital marketing and technology company, announced today the launch of their first product, editConnect. The templated solution provides businesses and developers with the full benefits of a Single Page Application, while delivering unprecedented control over the digital experience to Marketers and Content Contributors.
"To marketers, 'content' means more than just text or images; it includes the placement and presentation of the content in a meaningful and engaging manner," noted David Roe, Chief Executive Officer at Authentic. "editConnect allows businesses to obtain the performance, development, and scalability benefits of traditional SPA solutions. It also allows them to control their brand's digital experience using content management features that would be otherwise unavailable to them."
Built around Gartner 2017 WCM Magic Quadrant Leader, BloomReach Experience, editConnect addresses the contribution limitations of traditional SPA solutions, and provides advanced experience management features like inline preview, personalization and drag-and-drop organization of page content. In merging the technical benefits of SPAs, and the contributor-centric features of BloomReach Experience, this product will help businesses align the agendas of both IT and Marketing without the need for concession on either side.
"In today's landscape, effective solutions must provide marketers with control over the customer experience. The value of these contribution capabilities cannot be understated, and any solution that sacrifices them is simply moving the business backward," added David Roe.
The solution represents the continued partnership between BloomReach and Authentic, in addition to the collective ambition of both companies to disrupt the WCMS and experience management industry. "This solution maximizes the benefits of the BloomReach Experience platform, and takes advantage of our tools open architecture and advanced out-of-box modules," said Kevin Cochrane, Chief Marketing Officer at BloomReach. "We are excited about the way editConnect uses our platforms capabilities to meet the new wave of customer expectations around managing experiences across all channels."
About Authentic
Authentic is a full-service digital agency that is reinventing the way companies view digital. We know how digital can be used to create a personalized, constantly evolving marketing approach that garners measurable success. This approach means that our clients can be more creative with less risk, and our clients' customers can get authentic digital experiences that matter to them. Comprehensive digital marketing services include marketing and user experience strategy, creative ideation and production, technology implementation, and more. Authentic is headquartered in Richmond, Virginia with offices in New York, New York; Washington, DC; and Lima, Peru.
About BloomReach
BloomReach is a Silicon Valley firm that brings businesses the first open and intelligent Digital Experience Platform (DXP). As a Leader in the Gartner Magic Quadrant for WCM, BloomReach drives customer experience to accelerate the path to conversion, increase revenue, and build customer loyalty.