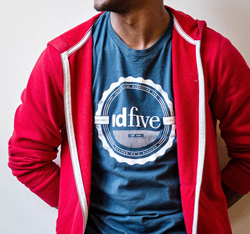 The fact that we are growing as measured as we are is a product of the unique, data-driven thinking we have provided our clients for years; more people are catching on to it now," said Andres Zapata, idfive's co-founder.
Baltimore, Md. (PRWEB) September 11, 2017
idfive, an integrated advertising, web design and brand-consulting agency, has grown its workforce by more than 30 percent since the end of 2016. Currently with more than 42 employees, the agency has continued to exceed its strategic expansion initiative by focusing on working with clients whose mission is to "do good," investing in the enthographic research capabilities and opening offices in key markets.
"We set the bar high for the agency and have been excited about the response from our clients, staff and partners," said Andres Zapata, idfive's co-founder. "The fact that we are growing as measured as we are is a product of the unique, data-driven thinking we have provided our clients for years; more people are catching on to it now."
A strategic expansion for the agency was to integrate the operations of ethnographic research firm, Context-Based Research Group. Leading that new offering is Dr. Robbie Blinkoff, a cultural anthropologist, ethnographer, writer and speaker. Blinkoff was awarded Fast Company's Fast 50 and has served as an expert commentator for CBS News, Inc., Wire, The New York Times and Newsweek. Blinkoff holds a Ph.D. in Cultural Anthropology from Rutgers University, and was an Assistant Professor of Cultural Anthropology at Goucher College in Baltimore.
The move strengthens idfive's research-driven marketing and design practice. Specifically, with ethnographic research methods, idfive can now uncover unprecedented insights into user experience, market analysis, design thinking, and consumer preferences for mission-driven brands in the categories of higher education, consumer package goods, non-profits and healthcare.
The integrated marketing agency has also expanded its footprint — opening new offices in Raleigh, North Carolina and Medellín, Colombia.
With expertise in the field of higher education, idfive identified North Carolina for its proximity to current and potential clients in the industry. Raleigh is among the fastest growing metro areas in the country per the U.S. Census Bureau, making the triangle area prime for talent and new opportunities for the growing agency.
Known as the "South American Silicon Valley," Medellin is an exciting venture for the growing agency as the area was named Innovative City of the Year by Wall Street Journal. Medellín is international business-friendly and has an emerging tech scene where idfive can recruit and secure the best talent the city has to offer. A native of Medellín, Zapata also looked to invest in the city's economic development and give back to his beloved community.
"There has been a major business boom, especially around innovation, in both Raleigh and Medellín," said Zapata. "At idfive, innovation is key to the strategies we provide. What better place to add diversity in our thinking, our team members and our client relationships than the cities identified as some of the most innovative in the world."
idfive continues to provide integrated marketing, advertising, brand development, visual design, web design and development, social media marketing, content marketing and search marketing services to clients nationally. Client roster includes: the Smithsonian Institution, University of Maryland, Kennedy Krieger Institute, The Johns Hopkins University, Howard University, Baltimore Office of Promotion and the Arts, Aerotek, Barcoding, Port Discovery and Gordon Feinblatt.
About idfive:
As an integrated marketing agency, idfive exists to amplify the good done by brands on a mission. Born in the digital age and raised in Baltimore, the agency uses research and user experience to guide their web design, development, communications, media and branding practices for a broad range of clients — including higher education, nonprofits, consumer package goods and healthcare. Honored for award-winning work, and revered for its enviable company culture, idfive's 40-plus-person team strives to produce great work for brands it believes in. idfive operates offices in Baltimore. Raleigh, N.C. and Medellín, Colombia.