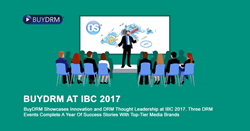 (PRWEB) September 12, 2017
BuyDRM™, a pioneer in Digital Rights Management ("DRM") and Content Security Services is set to give multiple presentations and demos at IBC 2017 in Amsterdam, Netherlands in conjunction with several of the largest names in digital media. These three events with Akamai, Google and IBC include a demo of the new KeyOS CPIX Integration, the KeyOS Widevine Everywhere program and our CEO's entertaining look back on sixteen years in the DRM business.
On September 16th at 11:00 AM BuyDRM CEO & Founder Christopher Levy will lead the discussion with the "KeyOS Widevine Everywhere Program" in the Google Theater located in Hall 14/Stand A.10. This presentation will deep-dive into Widevine-based solutions across HTML5 and modern devices.
On September 18th at 2:30 PM Christopher Levy will be presenting in the Content Everywhere Hub located in Hall 14. This presentation entitled "The Death of DRM and More Fake News" will discuss the recent history of DRM for media, it's perceived failures and success and it's rise to a now mandatory technology for premium online video content.
Throughout the duration of the IBC trade show, BuyDRM and Akamai will demonstrate the first ever large-scale CPIX (Content Protection Information Exchange Format) integration between the KeyOS Encryption Key API and Akamai's Cloud-based encryption service. This demo will take place in Akamai's booth (Hall 5/Stand B.52) and will run from September 15th-19th.
ABOUT BUYDRM
BuyDRM™ is a leading provider of Digital Rights Management and Content Security Services for the entertainment, enterprise and transportation and education industries with customers spanning the globe. With 16 years of market-leading experience implementing commercial DRM solutions and media technologies, BuyDRM has amassed substantial success stories for many of today's largest brands.
OTT and IPTV operators, television networks, movie studios, cable MSO's, telcos, and premium content distributors use the BuyDRM award-winning KeyOS Multi-DRM Platform to provide robust content security for their IP video offerings to a variety of connected devices. BuyDRM customers include BBC Worldwide and BBC iPlayer, NBC Universal, Sony Pictures Entertainment Television Networks, Sony Crackle, Warner Brothers, HBO GO Latin America, HBO Connect, Microsoft, By Deluxe, Vubiquity, Philo, ShowMax, AMC Networks, and Lufthansa Industry Solutions.
For more information please visit http://www.buydrm.com.
BuyDRM, KeyOS, the BuyDRM logo, the KeyOS logo, MultiKey, MultiPlay and MultiPack are trademarks or registered trademarks of BuyDRM, Inc. The names and logos of other companies and products mentioned herein may be the trademarks of their respective owners. ©2017 BuyDRM, Inc.