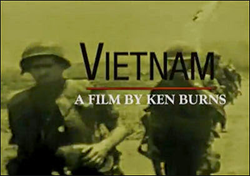 At the time, Vietnam Vets were not shown the appreciation they deserve. I am hopeful that this film with contribute to a sense of healing--no matter what your stand on the war. ~ Kerry McCoy - owner Arkansas' FlagandBanner.com
(PRWEB) September 12, 2017
Arkansas' FlagandBanner.com is partnering with AETN in bringing "The Vietnam War," a film by Ken Burns and Lynn Novick, to Arkansas viewers beginning September 17. The film is a 10 part, 18-hour documentary that was 10 years in the making and features testimonies from nearly 100 witnesses including Americans who fought in the war, those who opposed the war, and Vietnamese combatants and civilians on both sides. The documentary includes never-before-seen digitally remastered archival footage, photographs, historic television broadcasts, home movies and audio from inside the administrations of Presidents Kennedy, Johnson and Nixon.
"I was in grade school during much of the Vietnam War, but I remember my brother, like everyone, being worried about their draft numbers," says Arkansas Flag and Banner founder, Kerry McCoy. "It was not a popular war. When his draft number arrived, it was low and he was to be one of the first to serve. Because he was in college with good grades, he was omitted from the pool and I remember my mother being relieved and grateful he was a good student."
For 19 years, Americans fought and died in the jungles of Vietnam, fighting an enemy that outnumbered and encumbered the strategies set forth by American military forces. Soldiers who returned home found a changing society that at times shunned them for their patriotic duties. The horror of this war was being played out on television and was coming to be seen as unwinnable.
"We have so many customers with a military service background," McCoy said. "When I first heard about this show, I knew I wanted to be a part of it. At the time, Vietnam Vets were not shown the appreciation they deserve. I am hopeful that this film with contribute to a sense of healing--no matter what your stand on the war."
The first five episodes will air on AETN from Sept. 17 through Thursday, Sept. 21 and the final five episodes will air Sunday, Sept. 24, through Thursday, Sept. 28 at 7 p.m. An encore airing with back-to-back episodes will show Saturday, September 23rd (episodes 1-5) and September 30th (episodes 6-10) from 12:30p until 10:00p both days.
Arkansas' Flag and Banner is proud to have the opportunity to partner with AETN in airing this historically significant film. Learn more about the film, "The Vietnam War," here: https://www.flagandbanner.com/content/the-vietnam-war-film.asp
Arkansas' Flag and Banner (FlagandBanner.com) started in 1975 with Kerry McCoy selling flags door-to-door. During the past 40+ years Flag and Banner has grown from one woman to a multi-million dollar distributor, retailer, manufacturer and e-retailer.