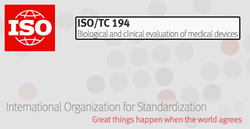 Leveraging the multidisciplinary expertise of AMRI's technical team, I will continue to propose expert solutions to the guidelines in development and to our customers, current and future.
Whitehouse, NJ (PRWEB) September 13, 2017
AMRI, a global contract research, development and manufacturing organization working with the life sciences industry to improve patient outcomes and quality of life for more than 25 years, today announced that John Iannone, director of extractables/leachables & impurities, has been named a US expert to the International Standards Organization/Technical Committee 194: Biological and Clinical Evaluation of Medical Devices.
Through this appointment, Mr. Iannone will have the opportunity to participate in global ISO committee meetings and specifically discussions surrounding the changing regulatory landscape of ISO 10993, a set of international standards for evaluating the biocompatibility of medical devices. In addition, as a nominated subject matter expert (SME), Mr. Iannone will further influence product safety guidelines and regulations. Only persons nominated as subject matter experts and accepted by the chairs of the respective working groups are allowed to participate in the international annual meeting. Mr. Iannone has been selected as an SME to 4 evolving working groups pertaining to strategies in assessments, extractables & leachables, toxicology assessments, and test article extractions.
"More than ever before, it is critical to understand the complex science of extractables and leachables, to provide an adequate assessment of safety and suitability in medicines and medical devices," said Mr. Iannone. "With that knowledge, we can develop and implement expert solutions for the many innovative products currently being introduced in the market. Through leveraging the multidisciplinary expertise of AMRI's technical team, I will continue to propose solutions to the guidelines in development and to our customers, current and future. This is an exciting time and am thrilled to be a contributor to the industry overall."
John Iannone serves as director of extractables/leachables (E&L) and impurities at AMRI. As a current candidate for board certification by the American Board of Toxicology (DABT), he ensures a strong tie to safety considerations in the AMRI E&L team. His areas of expertise include material qualification and biocompatibility, extractables and leachables, chemical characterization, and attainment of biological and/or toxicological risk assessments for medical devices, pharmaceutical container systems, bioprocessing systems, and combination products. He participates in the development of both industry groups' recommendations and regulatory guidelines through expert panel (USP) membership, global technical committees, and both industry and regulatory agency collaborations. In addition to leading the AMRI E&L lab operations, his responsibilities also include providing technical consultation to clients regarding unique testing strategies in an effort for them to meet global regulatory expectations. Mr. Iannone has a background in biomedical engineering from Boston University, where he later became a research engineer. Prior to joining AMRI, he served as a technical specialist at Toxikon. John has given numerous technical presentations and has led several workshops on extractable and leachable considerations, biocompatibility, microbiology, toxicology, and regulatory testing requirements.
Mr. Iannone will be speaking this evening on the changing regulatory landscape related to extractables, leachables, and elemental impurities (including aspects of ISO 10993) at Pharma Talk 2017 Dinner & Learn Series, occurring from 5:00 PM to 8:00 PM at the Heldrich Hotel in New Brunswick, New Jersey. In addition, he will be available at tabletop #133 during Contract Pharma 2017, which occurs September 14-15 in New Brunswick and at booth #73 during ChemOutsourcing 2017 in Long Branch, NJ.
About AMRI
AMRI, a global contract research and manufacturing organization, partners with the pharmaceutical and biotechnology industries to improve patient outcomes and quality of life. With locations in North America, Europe and Asia, AMRI's team combines scientific expertise and market-leading technology to provide a complete suite of solutions in Discovery, Development, Analytical and Solid State Services, API Manufacturing and Drug Product. For more information about AMRI, visit http://www.amriglobal.com.
Contacts
Gina Rothe
gina.rothe(at)amriglobal.com
518-512-2512
Carolyn Hawley
carolyn(at)canalecomm.com
(619) 849-5382