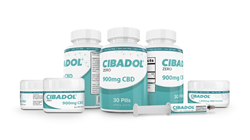 We can now bring to the public the added security of a zero-THC product in every milligram of Cibadol Zero we sell.
Colorado (PRWEB) September 12, 2017
Cibadol, a division of Hemp Depot, known for its production and distribution of consistent, high-quality and potent CBD supplements since 2015, announces a game-changing evolution in CBD: the new "Cibadol Zero," a product line that contains absolutely no THC.
Cibadol Zero products were unveiled earlier this month and are already the focus of growing demand, says company co-founder Andy Rodosevich.
"Individuals and companies have been coming to us for some time, asking for a CBD product that is THC-free," he adds. "These are people and groups that appreciate the benefits of CBD but also have to deal with issues such as industrial drug testing for THC. The Cibadol Zero products are meant for anyone who faces corporate, cultural or even moral objections to THC and the stigma surrounding it."
Cibadol Zero is currently available in four versions: as a pill, tube, salve or isolate powder. All those products, with the exception of the powder, are blended with lecithin and Medium Chain Triglycerides (MCTs): naturally-occurring fatty acids such as those found in coconut oil. The lecithin also makes Cibadol Zero more readily absorbed into the human body.
"Along with Cibadol's well-documented quality assurance and truth-in-marketing guarantees, we can now bring to the public the added security of a zero-THC product in every milligram of Cibadol Zero we sell," notes Rodosevich.
"We invite individuals and businesses to look around our website, click through our products listings and then consider your options when you want a THC-free, hemp-derived CBD product that is legal across the United States."
For More Information: visit HempDepotCo.com
About Hemp Depot
Hemp Depot is the leading distributor of domestic cannabidiol (CBD) in the USA. We provide the highest-quality, pharmaceutical grade CBD hemp oil, hemp seeds, hemp clones and hemp flower; all grown and processed in the United States. Hemp Depot also provides the best CBD-rich hemp seeds and hemp clones to Colorado growers. We deliver our products right to your door, in all 50 states and in over 40 countries worldwide.
The powerful benefits of CBD have yet to be totally understood but its future starts now. We are proud to help assist the revitalization of hemp across the globe; by producing and making the highest-quality hemp-derived CBD oil products.
Thousands of customers around the world have come to trust and rely on Hemp Depot for their CBD oil products. We invite you to join us in this adventure and would love to hear from you. Our staff is also available if you have any questions; just go to our Contact Us page.