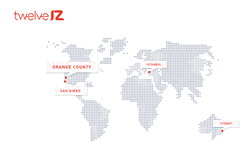 "It's an honor to be recognized alongside some of the best talent in the industry," explained Ike Elimsa, director of Twelve 12. "We hope that our piece serves as an inspiration to others, and continues to promote the skill, passion, and dedication to the art, just as many of this year's pieces have
Irvine, California (PRWEB) September 13, 2017
Twelve12's winning entry, a promotional video entitled "Out With The Old, In With The New," was created to announce the 7 Diamonds Spring / Summer clothing line. Using the phrase as a creative jumping-off point, twelve12 used their creative freedom to express the essence of the brand, but also to draw the viewer in, activating a range of emotions to help create a visceral connection with the brand.
The Muse Creative Awards is an annual international competition for creative professionals who inspire through concept, writing or design, whether through traditional or electronic media. "We wish to recognize the singular achievements of small and medium-sized firms, and the creative professionals who represent the heart and soul of the global marketing communications industry," said Kenjo Ong, co-managing director for the Muse Creative Awards.
"It's an honor to be recognized alongside some of the best talent in the industry," explained Ike Elimsa, director of Twelve 12. "We hope that our piece serves as an inspiration to others, and continues to promote the skill, passion, and dedication to the art, just as many of this year's pieces have done for us."
Muse Creative Awards is administered and judged by International Awards Associates (IAA) and a carefully selected, prestigious panel of internationally-recognized creative professionals. This year's Jury Panel includes 47 renowned, experienced, and brand new Judges from 19 countries worldwide.
Numerous entries from international brands and top agencies from around the world were received for this year's award program. Entries submitted by agencies for companies and brands such as Walt Disney Pictures, Samsung, McDonald's, KFC, Paypal, Herbalife, Jaguar, BMW, MINI, Grammy Awards, Sony Pictures, Macao Tourism, and Lionsgate Entertainment are among some of the winners from this year's award.
About Twelve12
Specializing in strategic planning, branding and marketing, Twelve12 was founded in Orange County with the mission to help small to mid-size companies grow. Twelve12 regularly assists companies develop across a wide spectrum of traditional and non-traditional marketing venues, producing advertising, websites, video content and apps, as well as advising to ensure message unity.
For more information about the Muse Creative Awards, visit http://museaward.com/. For more information about Twelve12, visit https://www.twelve12.com/