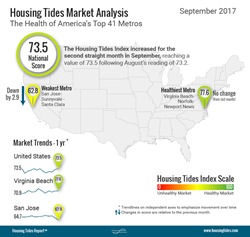 The number of homes listed for sale is at its lowest level for any July since 2013 and this dearth of inventory surely contributed to the widely-publicized drop in new and existing home sales recorded in the month.
Denver, Colorado (PRWEB) September 13, 2017
This week marks the release of the September Housing Tides Report™, featuring an update to the Housing Tides Index™, an objective and sophisticated approach to quantifying and comparing the health of U.S. housing markets. This month's Index update reveals an improvement in housing market health as 30 of the 41 markets tracked by Housing Tides saw improved conditions.
Understanding the health of a housing market and its relationship to other top markets requires an aggregated, comprehensive view of the industry. The Housing Tides Index provides a succinct monthly measure of market health across the top 41 U.S. markets. Referencing 18 market indicators ranging from unemployment rates and housing permits to rental vacancy and mortgage foreclosure rates, the Tides Index helps users understand exposure at a deeper level than is currently possible.

We noted last month that there were nearly 95k fewer homes for sale in June 2017 when compared to June 2016 and this pattern has continued, with Redfin reporting a similar year-over-year drop in July. The number of homes listed for sale is at its lowest level for any July since 2013 and this dearth of inventory surely contributed to the widely-publicized drop in new and existing home sales recorded in the month. However, the fall in the number of transactions means the months-of-supply measure improved in July, and the current inventory would be exhausted in three months at the current sales pace.
Still, continued price appreciation, intense competition among shoppers, and the fact that many current homeowners took advantage of low interest rates and refinanced in 2016 to lock in a low mortgage rate all mean that it's likely a significant pool of potential buyers has been kept out of the market. This housing shortfall affects labor mobility, curbing U.S. economic growth at a time when unemployment rates are very low and homebuilders continue to lament the shortage of skilled laborers in major metros.
Though measures of homebuilder and consumer confidence have weakened slightly in recent months, the Housing Market Index and Consumer Confidence Index remain solidly in positive territory, signaling that builders and consumers alike maintain a positive outlook on their current and near-term prospects. Foreclosure activity continues to steadily decrease and mortgage delinquency remains near its lowest level in years.
Moreover, Bureau of Labor Statistics estimates show well over two million more persons employed as of July when compared to a year ago, and the Federal Reserve Bank of Atlanta estimates year-over-year median wage growth at 3.3%, outpacing still-tepid inflation. In short, the financial health and optimistic outlook of consumers suggests that housing demand will remain robust in the near-term, which is supported by the positive reading of homebuilder sentiment. It remains to be seen whether builders will be able to ramp up production to improve the supply shortfall, but strong pent-up demand for housing should persist.
After exceeding our expectations and reaching a ten-year high in June, single-family permit approvals fell by over 16% in aggregate across the metros we track in July with just 35,400 permits approved. Multi-family permit approvals fell considerably as well, dropping by over a third in July and pulling the six-month moving average down to a rate of 23,700 per month.
Please reference the attached graph to view the Ten Healthiest U.S. Housing Markets - September, 2017.
Click here to view the complete Housing Tides Index of the top 41 U.S. markets.
Media Exclusive. Housing Tides Media Monthly Pulse.
Subscribe to our email service exclusively created for media which delivers an updated infographic depicting the latest monthly Housing Tides Index, the complete Index as it appears in the Housing Tides Report™, and a brief executive summary. All content can be shared in print and digital publications, with attribution to the Housing Tides Report.
Members of the media can subscribe to the Housing Tides Media Monthly Pulse here.
About Housing Tides
Housing Tides™ ("Tides") is the only monthly report that provides a comprehensive measure and aggregated understanding of the health of the U.S. housing and home building industry. Designed to take the guesswork out of the vast amount of forecasting information published about this sector, Tides is a sophisticated report that delivers city-specific, updated information when market conditions change. It is the only report that uses natural language processing and machine learning to correctly understand and synthesize large volumes of data, making it more comprehensive, balanced, and reliable than any other report of its kind. For further information, please visit housingtides.com and connect on Twitter, Facebook and LinkedIn.
Housing Tides is proudly partnered with IBM Watson®.