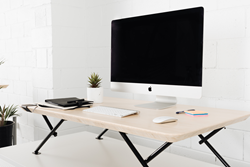 My vision is to create a behavioral change, health-focused workplaces, with a healthy working culture, all backed by research.
Melbourne, Australia (PRWEB) September 11, 2017
MOVI, the revolutionary new one-touch standing desk backed by years of research, is live on the leading global crowdfunding platform Kickstarter and raising funds to bring the project to life.
MOVI is an ergonomic, electric, spacious standing desk, crafted from bamboo. It gives users the power to turn any workspace into a healthy and ergonomic standing solution that gives them the option to sit or stand effortlessly with the touch of a single button.
The idea for MOVI came several years ago when founder Daniel Angelini injured himself exercising at night, after sitting at his desk and barely moving all day.
"After researching, I decided I needed a standing desk to get me moving more, but there wasn't anything I liked on the market so I ended up making a DIY one with some IKEA bits and pieces," says Angelini. "This inspired my workplace to buy some standing desks of their own, but then no one used them. They were uncomfortable and really didn't look any good."
MOVI is a solution that is as ergonomically smart as it is beautifully designed. The large surface is 45" wide and 27.5" deep. It has a smaller footprint of 42" wide and 21" deep, making MOVI able to suit just about every desk. MOVI's maximum lifting capacity of 44lbs is perfect for any single or dual monitor setups and is suitable for individuals 5' to 6'4" tall. Its use of bamboo also makes this an environmentally friendly solution. Bamboo is a natural and renewable resource that does not result in the destruction of any native forests.
The science is clear and the dangers of sitting are real. Spending 11 hours a day sitting down increases the risk for disease by over 140%. The MOVI Workspace team has designed their standing desk after the careful research of nearly 100 medical journals and the consultation of 20 medical experts.
MOVI improves users' health and wellbeing while they work. Standing has been proven to work while promoting an active workday that provides several health benefits including boosting productivity, optimizing muscle tone and physique, improving spinal health, enhancing energy and alertness, and increasing life expectancy while lowering the risk for disease.
"After spending endless hours at work in front of a computer, I was determined to find a way to stay active during the day," adds Angelini. "My vision is to create a behavioral change, health-focused workplaces, with a healthy working culture, all backed by research."
The MOVI Workspace Standing Desk is currently live and available to support on Kickstarter: http://bit.ly/movidesk
About MOVI Workspace
MOVI is an Australian product design company created by Melbourne-based husband and wife duo, Daniel and Nadia Angelini. Their mission is to create healthier workplaces around the world by getting you moving while you work. Their innovative standing desks makes this as effortless as possible, with their patent-pending, one-touch electric lift system. They are design and research obsessed, having consulted several health experts to create a standing desk that's perfectly designed for you.
For more information on MOVI Workspace please visit https://www.moviworkspace.com
For the complete MOVI Press Kit please visit: http://bit.ly/movipresskit
###