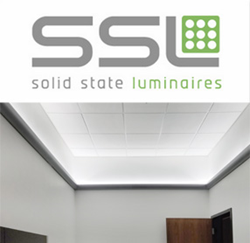 With Create-A-Cove you can add a linear lighting cove to a finished wall without the high cost of builders and finishers.
St. Charles, IL (PRWEB) September 13, 2017
Create-A-Cove (CAC) - is a newly released Linear LED Cove housing from Solid State Luminaires. When using Create-A-Cove you can add a linear lighting cove to a finished wall without the high cost of builders and finishers. It's made of durable extruded aluminum with a basic two-part housing that includes a back mounting plate and a faceplate. The faceplate has rounded or square profile options that are ADA Compliant and can mount to any type surface. It also features 90 degree, inside and outside corners to continue linear runs through and around wall corners. Create-A-Cove is designed to work easily with the Linear LED CoveLine™ lighting from Solid State Luminaires. An application of this system can be installed on completely finished walls quickly and economically while avoiding a huge mess. To better illustrate this application SSL created a video that demonstrates a finished wall installation.
Create-A-Cove is effective for both new build and retrofit interior applications. It significantly reduces the building and material costs for both applications. A typical built in cove or lighting soffit requires much more material and significantly more finishing time for mudding and painting small spaces and corners. A retrofit application in particular offers the advantage of simply finishing the walls and surfaces and then applying the Create-A-Cove system. Whether you're planning for an office, hotel room, hallway or lobby area, it's important to consider using a reliable light source for any cove style application. Also, to determine if the intended use is for design accents, wall washing or grazing effects. Create-A-Cove is designed to use the powerful and versatile Linear Indoor CoveLine Series LEDs with a 70,000+ hour lifetime rating and a minimum power consumption as low as 3.5 Watts per foot. The LED CoveLine™ luminaires are sold separately.
As trends in functional lighting design and illuminating architectural features continue to evolve, the community of professionals seek new and unique ways to light interior environments. The cost factor will always play a role in the decision making process. And the use of various types of new technology will be scrutinized for their adaptability and longevity. Create-A-Cove can be installed using universal orientation. The CoveLine LED fixtures fasten securely into tracks in the bottom of the back mounting plate using screws. The system uses the standard CoveLine mounting brackets, included with the fixture. Eight foot and four foot linear housing sections can align together for long continuous runs and can be cut to size in the field for a precise length run. Shorter runs can be finished with provided End Caps. It's the same for both the round and square profile. Adding the corners to a linear run allows for continuing the linear application while navigating inside and outside corners. See a video demonstration installing inside corners. The idea of hiding a light source from sight that still produces ample lighting, continues to be a growing trend. Create-A-Cove has this capability.
The overall profile dimension of the Create-A-Cove housing are compliant with American Disabilities Act for both the Round (CACR) and Square (CACS) housings. The Round (CACR) is 3.6"D x 3.375"H at 2.2 lbs/foot, and the Square (CACS) is 3.6"D x 3.33"H at 2.5 lbs/foot. It ships in 8 and 4 foot sections from the factory and can be cut to modify lengths in the field. The aluminum housing is powder coated for a durable finish. It's offered in standard colors of white, silver, bronze and black. Also, the aluminum housing can be powder coated any custom color to match an interior design, by submitting a color swatch or providing an RAL color chip reference. The durable 8-stage powder coat passes the industry standard 5000 hour salt spray test (ASTM B117), and is directly applied at our manufacturing facility here in the US. By submitting a dimensional drawing of the room layout to Solid State Luminaires, the factory will create a complete bill of materials for an installation. Review the Create-A-Cove specification sheet for more details.
Create-A-Cove system is designed to work with the SSL Linear Indoor CoveLine™ Series; ECVLX10V (0-10V), ECVL, ECVLX, CVL, CVLX, and CoveLine Color (10 static LED colors to choose from). See indoor CoveLine products for lighting specifications. Select color temperature, Lumen output and choice of optic beam. To contact a local representative near you, visit SolidStateLuminaires.com and click on Rep Locator.