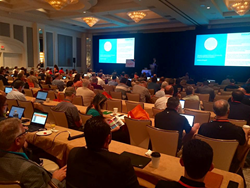 The only retail-focused tech conference that caters to the Microsoft Dynamics community and the entire retail point-of-sale ecosystem
Napa, California (PRWEB) September 12, 2017
Retail Realm, a multinational software development and distribution company in the retail industry, announces they will be hosting their annual Retail Realm Partner & User Conference at the Four Seasons hotel in Las Vegas, Nevada on November 12 – 14, 2017. Now in its 7th year, the 3-day conference will once again bring together solution providers, resellers, VARs, ISVs, hardware partners, and retailers around the world for an up-close look at the future of retail technology across different business verticals, platforms, hosted services and devices.
With this year's conference theme of "Where Technology Innovation Meets Retail," the event will spotlight the latest Microsoft solutions, software developments and innovations, trends and insights, and supportive platforms for small businesses to large-scale enterprises in the retail sector. The agenda line-up will include keynotes from Microsoft's executive management and a deep-dive into Microsoft's just-launched solution for small-to-medium (SBM) businesses: Microsoft Dynamics 365 for Retail.
Additionally, through educational panels, break-out sessions and exhibit showcases, attendees will get an exclusive, holistic view of all the software, hardware, eCommerce, mobile, business intelligence and payment processing options available today and tomorrow. Product showcases will include Microsoft Dynamics 365 for Retail, the RR MAX product line, Retail Management Hero (RMH), FoodChain, and leading solutions in the retail and hospitality markets. Additionally, launching at the event will be RMH Central, the new Headquarters multi-store component of the RMH point-of-sale solution.
Known for its retail-focused agenda as well as unique educational and social opportunities, the conference will also feature the:

Welcome Cocktail Reception providing networking opportunities that put partners and developers face to face with resellers and retailers in a casual, fun setting
Executive Summit Meeting enabling partners to discuss directly with Microsoft and executive management the go-to-market, pricing and operational strategies
Microsoft keynotes that address the more than 300 channel partners regarding product innovations, strategies and roadmap
EXPO Hall packed with product showcases from leading software and hardware providers
Presentations from industry leaders and experts
Informative sessions and educational panels around Microsoft Dynamics retail solutions, add-on modules, payment processors, point-of-sale systems, and more
Awards Ceremony honoring top-performing partners and resellers
Early Bird event exhibitors include AURES Technologies, Sound Payments, Posiflex, Cayan, FoodChain, Transaction Services (TRX), Blue Horseshoe, Worldpay, Retail Management Hero, Shift4 Corporation, Ingenico, and other solution providers, payment processors and hardware vendors.
Registration is now open, with Early Bird Ticket pricing. To register and/or for conference details, visit http://www.retailrealmconference.com.
###
The Retail Realm Partner & User Conference is an annual global retail technology event that spotlights the latest Microsoft solutions, software developments and innovations, trends and insights, and supportive platforms for small businesses to large-scale enterprises in the retail sector. Conference website: http://www.retailrealmconference.com or conference(at)rrdisti(dot)com