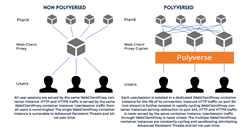 Kirkland, WA (PRWEB) September 12, 2017
Moving Target Defense is a suite of cybersecurity tools that enables high levels of entropy through binary scrambling, container cycling, session isolation, and other methods to make cyberattacks exponentially more difficult for attackers. PlanX is a highly interactive, next-generation cyber battlespace command system with a large number of user-facing, external endpoints.
The DARPA Polyverse team successfully demonstrated high scalable out of the box protection for PlanX requiring only a handful of changed lines to the deployment script and no upstream changes to any phase of the development pipeline. This non-invasive and offline approach to implementation was deliberate and intended to demonstrate the protection that Polyverse brings to the PlanX program and potentially other DARPA system solutions. DARPA seeks to transition the PlanX program to several DoD organizations.
About DARPA: The genesis of DARPA dates to the launch of Sputnik in 1957, and a commitment by the United States that, from that time forward, it would be the initiator and not the victim of strategic technological surprises. Working with innovators inside and outside of government, DARPA has repeatedly delivered on that mission, transforming revolutionary concepts and even seeming impossibilities into practical capabilities. The ultimate results have included not only game-changing military capabilities such as precision weapons and stealth technology, but also such icons of modern civilian society such as the Internet, automated voice recognition and language translation, and Global Positioning System receivers small enough to embed in myriad consumer devices. DARPA explicitly reaches for transformational change instead of incremental advances. But it does not perform its engineering alchemy in isolation. It works within an innovation ecosystem that includes academic, corporate and governmental partners, with a constant focus on the Nation's military Services, which work with DARPA to create new strategic opportunities and novel tactical options. For decades, this vibrant, interlocking ecosystem of diverse collaborators has proven to be a nurturing environment for the intense creativity that DARPA is designed to cultivate.
About Polyverse: Polyverse is a privately held company founded by a group of technologists who saw an unprecedented opportunity to stem the tide of cybercrime. Bringing together top engineering and management talent from such firms as Microsoft, Amazon, AOL and the academic world, Polyverse designed groundbreaking technology based on the concept of Moving Target Defense that makes large-scale data breaches all but impossible.
Approved for Public Release, Distribution Unlimited