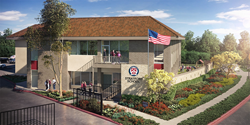 Mission Viejo, CA (PRWEB) September 11, 2017
WHO: Stratford School Leaders, Students, Parents, Staff, and Community Guests
WHEN: Monday, September 18, 2017, 9:00-9:30 a.m. Ribbon Cutting Celebration. Event followed immediately by an Open House until 11:00 a.m.
WHERE: Stratford School (Former Carden Academy)
24741 Chrisanta Drive
Mission Viejo, CA 92691
DETAILS: Stratford School will celebrate the opening of its 23rd campus with a ribbon cutting ceremony and open house at their newest location in Mission Viejo. After an extensive renovation project this summer, Stratford welcomes preschool through 8th grade students and their families to forge a new, vibrant community. This celebration event highlights nearly a yearlong partnership between the former Carden Academy of Mission Viejo and Stratford School. Stratford continues its tradition of providing a balanced, enriched curriculum for students in a safe, nurturing environment where each discovers independence while developing into creative problem solvers, innovators, and leaders.
PHOTO/VIDEO OPPS: Attendees: Community dignitaries and key project partners, along with Stratford School officials, teachers, students, and parents.
Activities: Ribbon cutting celebration featuring school, community, and project leaders. Tours of newly renovated campus including Stratford's inviting preschool classrooms and play ground, and enriched learning environments for K-8 grade students.
ABOUT STRATFORD SCHOOL: Established in 1999, Stratford School is a leading independent private school founded on the belief that education is a significant influence in the life of a child. Stratford offers an accelerated, balanced curriculum from preschool through eighth grade emphasizing the areas of STEAM (Science, Technology, Engineering, Arts, and Mathematics) that incorporates music, physical education, foreign language, and social skills development. Stratford's goal is to prepare and mentor students for admission to competitive high schools and colleges. All students are provided the necessary tools to excel, and are encouraged to participate actively in leadership, community service, and extracurricular activities. Visit http://www.stratfordschools.com for more information.