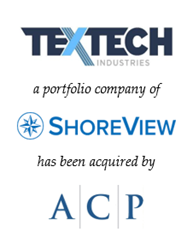 Charlotte, NC (PRWEB) September 12, 2017
Tex Tech, headquartered in Portland, ME, is a leading designer and manufacturer of high-performance, fiber-based specialty materials for demanding customer applications across a diverse range of industries. The Company's sophisticated research and development capabilities, combined with its unique ability to blend and treat materials to exacting customer specifications, has enabled Tex Tech to develop proprietary, often patented, product solutions for market-leading product manufacturers for aerospace, specialty industrial, personal protection and select sporting goods applications. Its products include fire-resistant fabrics, acoustic and thermal insulation, battery barriers, friction-reducers, tennis felt and protective apparel that saves lives and increases worker comfort.
Ciaran Lynch, CEO of Tex Tech, commented: "BlackArch provided tireless commitment throughout the process, strong execution capabilities and significant knowledge of our diverse end markets to ensure we found an exceptional partner for the business. Our entire team at Tex Tech is excited about our future with Arlington Capital Partners and the opportunities for continued growth and expansion. Arlington's buy and build strategy, significant base of capital, as well as network of aerospace and defense relationships will allow us to rapidly increase the company's scale. We look forward to continuing the strong relationship we have with our customers and serve their complex requirements for high performance materials by continuing to expand our product offerings."
BlackArch was retained by ShoreView Industries as its exclusive financial advisor. The transaction continues BlackArch's strong momentum in the aerospace, defense & government services ("ADGS") and diversified industrials sectors and is representative of the firm's focus on providing unique M&A advisory services to market-leading and sponsor-backed growth businesses.
Transaction Highlights

Arlington Capital Partners has acquired Tex Tech Industries from ShoreView Industries
Tex Tech is a leading, innovative designer and provider of specialty high performance materials for aerospace, specialty industrial, personal protection and select sporting goods applications
Management will continue to grow the business and remain an integral part of the shareholder group during the Company's next phase of growth
BlackArch leveraged its deep end market and business model knowledge to achieve a superior outcome for management and the shareholders
About Tex Tech Industries
Tex Tech is one of the world's leading specialty material manufacturers that specializes in meeting the requirements of difficult and demanding customer applications. The Company's research and development team allows it to be innovative, creative, and on the cutting edge for the benefit of its growing customer base. The Company has operations in the United States, United Kingdom, Ireland and Thailand. The Company's headquarters are in Portland, ME.
About ShoreView Industries
ShoreView Industries, based in Minneapolis, manages $900 million in private equity funds. ShoreView invests in established, middle-market companies with operations in North America, across a wide range of industries. ShoreView structures a variety of acquisition, recapitalization and build-up transactions, typically in businesses with revenues ranging between $20 million and $300 million.
About Arlington Capital Partners
Arlington Capital Partners is a Washington, D.C.-area private equity firm that has managed $2.2 billion of committed capital via four investment funds, including Arlington's fourth and most recent $700 million fund. Arlington is focused on middle market investment opportunities in growth industries including: aerospace/defense, healthcare, government services and technology and business services and software. The firm's professionals and network have a unique combination of operating and private equity experience that enables Arlington to be a value-added investor. Arlington invests in companies in partnership with high quality management teams that are motivated to establish and/or advance their Company's position as leading competitors in their field.
About BlackArch Partners
BlackArch Partners is a leading middle-market investment bank offering a full spectrum of advisory services to financial sponsors, private companies and diversified corporations. BlackArch addresses the needs of owner-operators, founders and shareholders of private companies with specialized services that include M&A advisory, strategic advisory and private capital solutions. Headquartered in Charlotte, NC, BlackArch features a total of 12 industry-focused practices that cover all sectors of interest to middle-market investors; BlackArch professionals have closed more than 350 transactions in 16 countries on four continents. Please visit our website, blackarchpartners.com, for more details.
Securities offered through BlackArch Securities LLC. Member FINRA and SIPC. Testimonials may not be representative of the experience of all clients. Testimonials are not a guarantee of future performance or success.