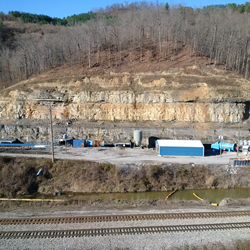 "We are very excited about this mine going into production at Deane Mining and further diversifying our customer base," stated Tom Sauve, President of Quest Energy Inc.
FISHERS, INDIANA (PRWEB) September 13, 2017
American Resources Corporation (OTCQB: AREC), through its wholly owned subsidiary Quest Energy Inc. and Deane Mining LLC, has begun the process of re-starting production at its Access Energy underground coal mine. Located in Letcher county, Kentucky, the Access Energy mine is within the Elkhorn 3 seam and production from that mine has been sold under contract to a regional electrical utility provider located in the southeastern United States. Initially, Deane Mining LLC has sold two unit trains per month, consisting of approximately 12,000 tons of coal on each train, and Quest Energy is in advanced discussions with other coal buyers for additional coal sales transactions sourced from Access Energy and Deane Mining LLC.
Production from the Access Energy mine will be belted directly into the 800 tons-per-hour Mill Creek Preparation Plant and then loaded to the railcar from the RapidLoader Loadout. Quest Energy will have the additional ability to leverage its assets and operations at the Mill Creek Preparation Plant and loadout to potentially partner with other regional coal producers who do not have access to such facilities, thereby enhancing both operating margins at Deane Mining and other specialty coal qualities for potential sale through the company.
"We are very excited about this mine going into production at Deane Mining and further diversifying our customer base," stated Tom Sauve, President of Quest Energy Inc. "This is another example of how our capital investments and broad infrastructure has put us in an advantageous position to ramp production and respond to our customers' demand very quickly. Additionally, commencing operations at our Mill Creek Prep Plant will enable us to evaluate other near-term expansion of our coal production and third-party business to further increase the per-ton margin from the facilities by further reducing our fixed cost per ton".
All coal qualities shipped will be subject to independent, third party analysis in accordance with the American Society of Testing Materials (ASTM). Additionally, American Resources Corporation will continue to leverage its organic growth through its 35 controlled permits while also looking for supplemental, strategic acquisitions.
About American Resources Corporation
American Resources Corporation is engaged in diversified energy services including mining, processing and logistics, with a primary focus on traditional energy sources such as coal and oil and gas. American Resources Corporation plans to expand its business by continuing to develop its currently leased properties and further expanding its processing and logistics business, and through the pursuit of strategic acquisitions.
Contact:
Mark LaVerghetta, Director of Corporate Communications
investor@americanresourcescorp.com
Special Note Regarding Forward-Looking Statements
This press release contains forward-looking statements. Forward-looking statements involve known and unknown risks, uncertainties, and other important factors that could cause the Company's actual results, performance, or achievements or industry results to differ materially from any future results, performance, or achievements expressed or implied by these forward-looking statements. These statements are subject to a number of risks and uncertainties, many of which are beyond the control of the Company. The words "believes", "may", "will", "should", "would", "could", "continue", "seeks", "anticipates", "plans", "expects", "intends", "estimates", or similar expressions are intended to identify forward-looking statements, although not all forward-looking statements contain such identifying words. Any forward-looking statements included in this press release are made only as of the date of this release. The Company does not undertake any obligation to update or supplement any forward-looking statements to reflect subsequent events or circumstances. The Company cannot assure you that the projected results or events will be achieved.
Source: American Resources Corporation